If you're looking for a short walk that's a bit out of the way, then Copelands could be the one for you. Here: https://w3w.co/format.eagerly.crisps
The track is a bit rough in patches so take your time. The walk is really interesting and is well worth the effort. The lookout faces south so there is great light all day.
KEY POINTS
• Time: 40mins return
• Kid-safe: Yes, with supervision
• Dogs on-leash: No
• Steps: Many of them, some are pretty rough
• Accessible: No
• Heights: No high cliff areas other than the lookout.
• Must do rating: 9
ACCESS: You can access it off the Prince Henry Cliff Walk or go direct by parking in the old Solitary Restaurant Carpark https://w3w.co/sweeps.flirting.unit and walk down toward Fossil Rock Lookout and turn left. Walk about 100m and tack the track that goes hard right to the lookout.
BACKSTORY: It's also been known as "Copelands Outlook" and "Copelands View". It was named after a Katoomba "storekeeper" William Raeburn Copeland in the early 1930's. See the last photo of the old shop.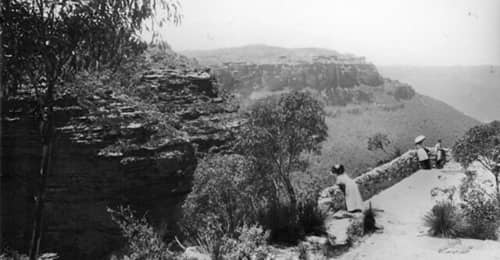 2916 - 10318861