Only two hours west of the bustling metropolitan city that is Sydney lies an oasis of nature known as the Blue Mountains. Listening to a kookaburra above you in a sprawling, ancient blue gum tree, taking in views from treacherous cliffs and ravines that could put the Grand Canyon to shame, this World Heritage-listed site makes for a great day trip from the city. To really experience it, however, stay at least a few nights and enjoy some hiking- or bushwalking, in the words of the locals.
The Blue Mountains are a bushwalker's paradise. There is something to suit everyone's level of fitness and trails are well-marked, ranging from short one or two kilometre walks, up to the Six Foot Track, a strenuous three-day hike from Katoomba to the Jenolan Caves.
If, after some consideration, the thought of trekking through the bush in a steep, mountainous environment doesn't appeal to you, fear not; the villages of Katoomba, Leura, or Blackheath are full of cosy cafes for putting your feet up with a tea (or something stronger).
The Blue Mountains encompass a vast area of land, but most visitors will make the town of Katoomba their first port of call. From Sydney's centre, Katoomba is best reached from Central Station, along the Blue Mountains Line. Your Opal card will get you there, as the mountains are part of Sydney's train network, and will set you back between $5-$10, depending on the time of day, and two hours of your time.
If you're driving, Katoomba is easy to access from the Great Western Highway and parking can usually be found.
Bushwalking Safety Tips
While bushwalking is safe for adults and children alike, it is worth bearing in mind a few safety tips before setting off, especially if you are not an experienced hiker.
• Always let someone know where you are heading and when you expect to return. To help with this, check in with National Park Service and they will loan you, at no cost, a Personal Locator Beacon, with GPS. If you don't return by a set time, they can use this to find you- while hopefully, it won't come to that, it's reassuring to have that peace of mind.
• The weather in the mountains can quickly change, from rain to cold to sweltering heat, so check a detailed forecast before setting off. It can vary wildly from Sydney's weather, so check online here before heading out.
• Follow the marked trail signs and stay on the trail, for your own safety, and don't underestimate the trail ratings. More advanced trails might require you to rock climb or traverse uneven or difficult terrain, so stick within your comfort level. The National Park Service and information centres can provide maps and recommend which walks would best suit your level.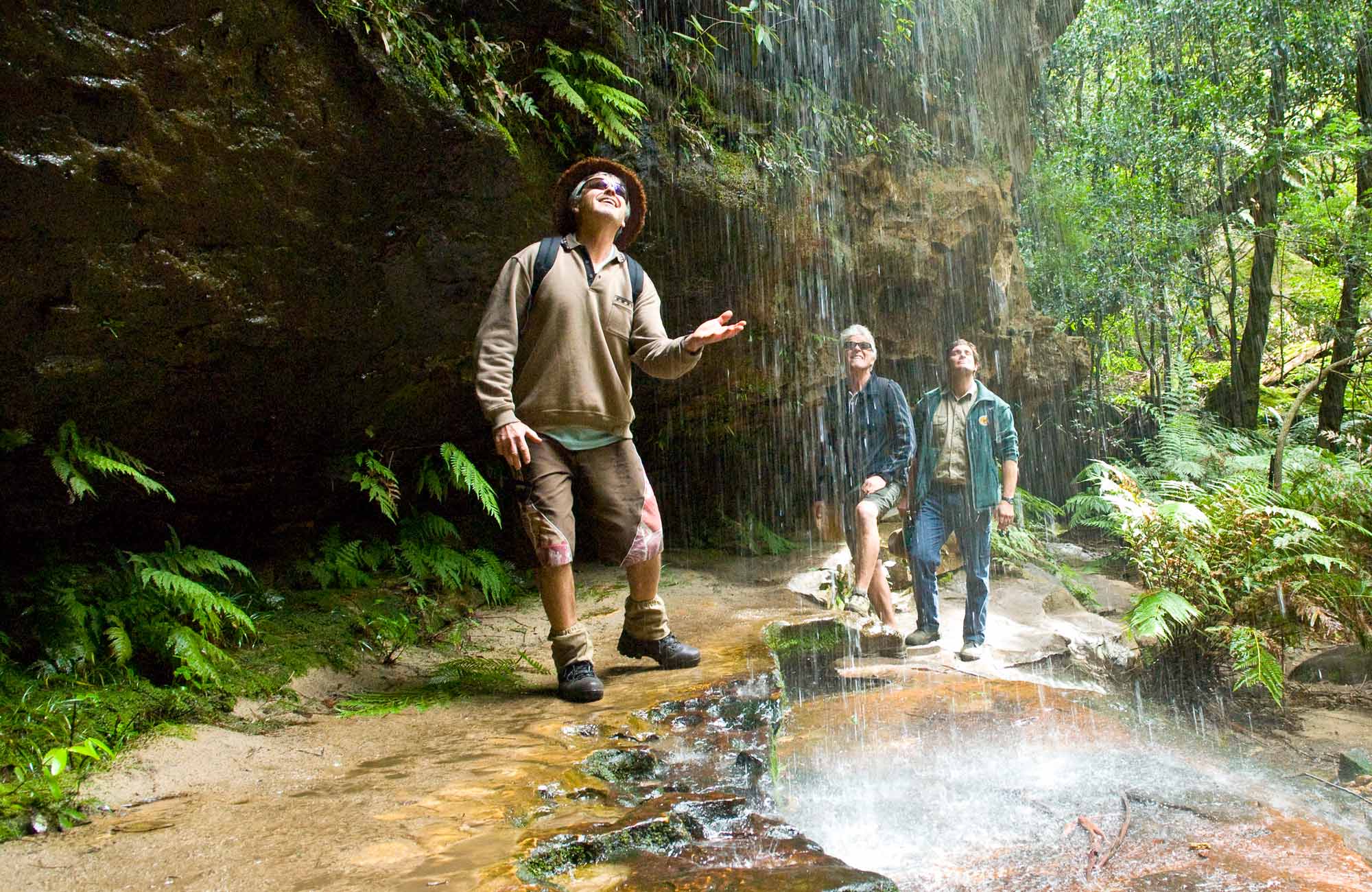 • Take along basic first-aid supplies, such as bandages for blisters or cuts, aspirin, as well as the basics: plenty of water, a wide-brimmed hat, sunscreen, camera, and well-worn-in shoes.
After you have had their fill of walking, there is plenty more to see and do to occupy your time in the mountains. If you haven't seen it yet, make time to check out The Three Sisters, an unusual rock formation located in Katoomba, the main township of the Blue Mountains. Aboriginal legend tells that three sisters were turned to stone to protect them from unwanted male attention from a nearby tribe, and they remain there to date.
While stunning on any clear day, the Three Sisters are especially breathtaking at late afternoon or early evening light. Come to think of it, this is a great time for photography generally in Australia.
While in Katoomba, check out the vintage shops, cafes, and restaurants and the art-deco architecture, or pop into the Carrington Hotel for a cocktail. From the outside, this hotel has a foreboding resemblance to the Overlook Hotel, a la the Shining, but the interior has been painstakingly restored to the turn-of-the-century Victorian style of its heyday.
Scenic World, although touristy, is worth a visit. The Scenic Railway takes you down (and up) from the visitor center to the forest below, and the Scenic Skyway is an incredible way to see the mountains from above.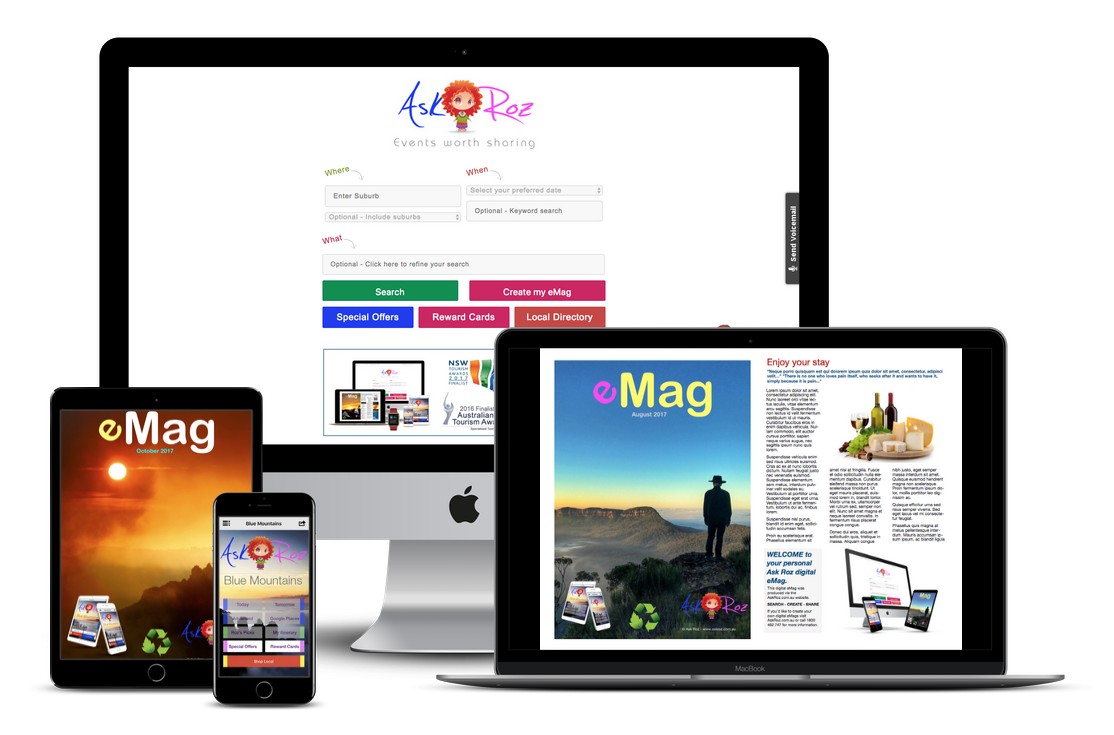 USE your free Ask Roz Blue Mountains app to find great things to see and do:
Apple: bit.do/Ask-Roz-BM-Apple
Android: bit.do/Ask-Roz-BM-Android
Ask Roz Blue Mountains: bit.do/Ask-Roz-BM
https://www.facebook.com/AskRozBlueMountains/
http://www.askroz.com.au
Article Source: http://EzineArticles.com/expert/Katie_Dundas/2376039
8297 - 10279411