South Lawson Park has historical significance at the local level as an example of a recreation reserve developed by local trustees over a period of about 30 years with walking tracks to allow access to its scenic attractions.
The full loop is about 3.5km and it'll take you about 90 minutes to complete. It's family-friendly so the kids will love it. There are 5 waterfalls to see and the most wonderful trees.
360° Virtual Tours of all the waterfalls

WATCH a video of the full walk: https://www.facebook.com/AskRozBlueMountains/posts/3714069308636462
Federal Fall is an interesting and precocious example of placenames revealing enthusiasm for political movements, in this case Federation a decade before it happened.
The reserve has significance at the local level for its association with Adelaide Wilson, part of the family that owned the Blue Mountain Inn.
Victorian and Edwardian photographers created images of the Five Falls Loop in South Lawson Park that serve to emphasise the value bushwalkers and artists have placed on these natural features over a long and continuous period of time. The South Lawson Falls continued to feature large in local guidebooks for a century. (Contributed by Ian Jack & Associates).
South Lawson Park was originally gazetted as a reserve (No.35) on 22 August 1876, regazetted on 16 January 1880, then proclaimed as a Public Park on 16 August 1888 and regazetted under the Crown Lands Consolidation Act on 21 December 1917. Track construction (to Adelina Falls) began in the late 1870s and was completed by about 1909.
Track from Honour Avenue to top of Adelina Falls
There was a track to the top of Adelina Falls from the Blue Mountain Inn (licensed from 1845) very early in Lawson's history. It is named after the licensee's daughter Adelaide Wilson born 1850. It is shown on the 1882 Russell map of Lawson. However, by that time it had been superseded by a new track which took approximately the line of the unformed Honour Avenue and branched off to the top of the falls. The construction of the road and the formation of a parking area by the trustees disrupted the original relationship between the road and the track and left a 'stranded' fragment running parallel to Honor Avenue. This fragment has a branch at its northern end which could be a remnant of the old track from the inn. During the international enthusiasm created by the rescue of Livingstone by Stanley in
November 1871, the waterfall's name was changed to Livingstone Falls. However, it had reverted to Adelina by the 1890s. Lawson is unusual in that most of its waterfalls have had similar name changes.
1882 Name Current Name
Livingstone Falls Adelina Falls
Stanley Falls Junction Falls
Hay's Cascade Federal Falls
Christabel Falls Dante's Glen Falls
Cecilia Falls Fairy Falls
Sebastian Falls Name 'lost' (for fall between Fairy and St Michael's Falls)
According to Russell 1882, the early names were bestowed by government surveyors, and the latter were used by the locals. The trustees wanted to open up the 'Cup and Saucer'
Falls (location unknown) and did build a track to Bass Falls later known as Leslie Falls, downstream of Federal Falls.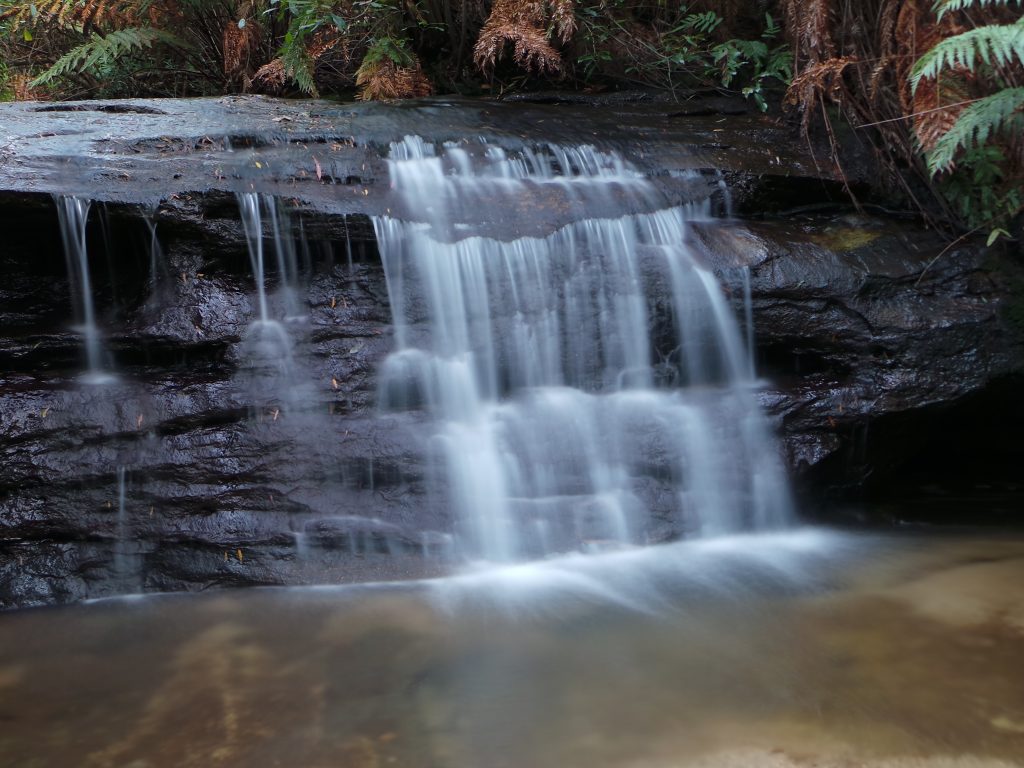 Track to the top of Cataract Falls
The track was part of the improvements carried out around Cataract Falls in August 1895.
Adelina Falls to Cataract Falls via Federal Falls
Construction of this link track took place in the following stages.
1. First track from top to bottom of Adelina Falls between 1885 and 1895. This track is not on the 1885 Russell map but is referred to as being completely replaced in 1895 (Nepean Times, 24/8/1895).
2. An 'entirely new track made to the bottom…' (Of Adelina Falls) in Aug 1895 (Nepean Times, 24/8/1895).
3. A track from the top to bottom of Cataract Falls by 1898 ('Oreinos' 1898).
4. A track from the bottom of Adelina Falls to Junction Falls by 1898 ('Oreinos' 1898 ).
5. A track from Junction Falls to Federal Falls was described as new in 1899 (Nepean Times, 20/1/1899), but is mentioned in the 1898/99 Mountaineer Guide, ie. Constructed in 1898.
6. The final link between Federal Falls and the bottom of Cataract Falls by May 1900. (Nepean Times, 1/9/1900, Mountaineer,11/5/1900).
This combination of tracks appears not to have been given a name.
Track from Federal Falls to Bass Falls
Bass Falls is shown on the Russell map of 1882 but no track is shown. As Federal Falls had been accessed by a track in 1899 (Nepean Times, 20/1/1899) this branch track could have been made soon after or after the completion of the loop to Cataract Falls in 1900.
Track across top of Adelina Falls to Golf Course
In 1907 the Lawson trustees began development of the Lawson Recreation Ground and wrote of 'a new track being formed from Broad Street down to the recreation ground and also one from there to Adelina Falls, thus making a complete circuit'.
In 1909 the trustees accepted a tender for clearing of 'about 4 acres connecting the recreation grounds with Adelina Falls' saying that it will become a popular walk for visitors.
The recreation or pleasure ground later became Lawson Golf Course. It is assumed that the track crossing the top of Adelina Falls is a remnant of the 1907 project. However, other interpretations could be made.
Ian Jack & Associates have contributed the notes on nomenclature.
Federal Falls
Federal Falls were named a decade before Federation was accomplished. The name was bestowed in 1889 as a result of the Federal convention and the influence of Sir Henry Parkes. It had been previously known as Hays Cascades, after Jose Hay, the instigator of both South and North Lawson Parks. (Fox, Upper Blue Mountains Geographical Encyclopaedia, 62)
Junction Falls
The falls originally took their name from the junction of two creeks, Lawson and Ridge, just below the triple waterfalls among tree ferns. When David Livingstone, the missionary explorer in Africa, was rescued by Stanley in 1871, the falls were renamed Stanley Falls, but reverted to Junction Falls in the 1890s.(Fox, Upper Blue Mountains Geographical Encyclopaedia, 11, 105; Woods, Yellow Rock to Green Gully, 5; Official Guide to Lawson … ,19, 25)
Adelina Falls
Adelina Wilson (1850-1898) was the vivacious 'Blue Mountain Parrot', daughter of Henry and Sarah, the owners of the original Blue Mountain Inn in Lawson. She had given her name to the falls before 1871, but after the dramatic rescue of David Livingstone, the missionary explorer, in Africa by Stanley in 1871, the falls were then renamed Livingstone Falls (and Junction Falls became Stanley Falls). Adelina fought back and the Railway Guide of 1879 used the term Adelina Falls. Although the name Livingstone Falls still appeared on some maps up to 1913, it entirely lapsed thereafter and the reserve dedicated in 1917 bore Adelina's name. (Fox, Upper Blue Mountains Geographical Encyclopaedia, 11, 105; Woods, Yellow Rock to Green Gully, 5)
This Park has been susceptible to environmental degradation due to the large amount of suburban development in the catchment and also the development of a cemetery, garbage tip and golf course on its boundaries. The latter was opened on the "Lawson Recreation Ground" in 1908 (Anon. 1908).
Both the South Lawson and South Hazelbrook trustees wanted to link the two reserves with a track along Lawson Creek. This track was described as "cleared" in 1895 (Mountaineer 28 August 1894) and 1913 (Blue Mountains Echo 5 September 1913), but it was apparently never opened for tourist use.
Degradation within the reserve was the subject of a report to Blue Mountains City Council on 12 October 1993. Unfortunately very few of th excellent recommendations were carried out.
In early to mid 2003 Blue Mountains City Council used the Environmental Levy funding to repair the track around Cataract Falls. Publication of Keith Painter's guide to this reserve renewed interest in its values and drew attention to the environmental issues affecting the reserve.
Physical Description:
South Lawson Waterfall Circuit (4 km) traverses South Lawson Park that contains Adelina Falls, Cataract Falls, Federal Falls, Junction Falls and Leslie Falls, on Ridge Creek, Cataract Creek and Lawson Creek.
South Lawson Waterfall Circuit (4 km) traverses South Lawson Park that contains Adelina Falls, Cataract Falls, Federal Falls, Junction Falls and Leslie Falls, on Ridge Creek and Lawson Creek. In 1905 the falls were aptly described:
'One of the first sights to be seen by the visitor is undoubtedly Junction Falls, which for variety of interests and picturesque beauty would be hard to beat. There is no more favoured spot for picnickers within miles of Lawson, than that at the bottom of these three beautiful falls … which abound in little peeps of beauty, even calling for rapturous praise from the artist and the photographer.'
'Adelina [is] the first of a series of charming falls, situated at the head of the glen. A good view may be obtained from the huge rock about half way down, but the real beauty of the spot is only properly revealed when the bottom is reached.' (Official Guide to Lawson …, 25)
Large specimens of Angophora costata and stone steps on the higher ground of the circuit walk are of considerable aesthetic appeal. It is currently difficult to obtain a clear view of Adelina Falls, a delicate fall of water, from the upper part of the track but there are glimpses of it as one descends through the open forest. Persoonia acerosa, a vulnerable species under Schedule 2 of the NSW Threatened Species Conservation Act 1995, has been identified at Adelina Falls.
Information provided by BMCC.
WATCH a video of the walk here

46572 - 10318735