This is a short spectacular walk through a lush rainforest gully leading to lookouts that boast some of the most iconic views in Blue Mountains.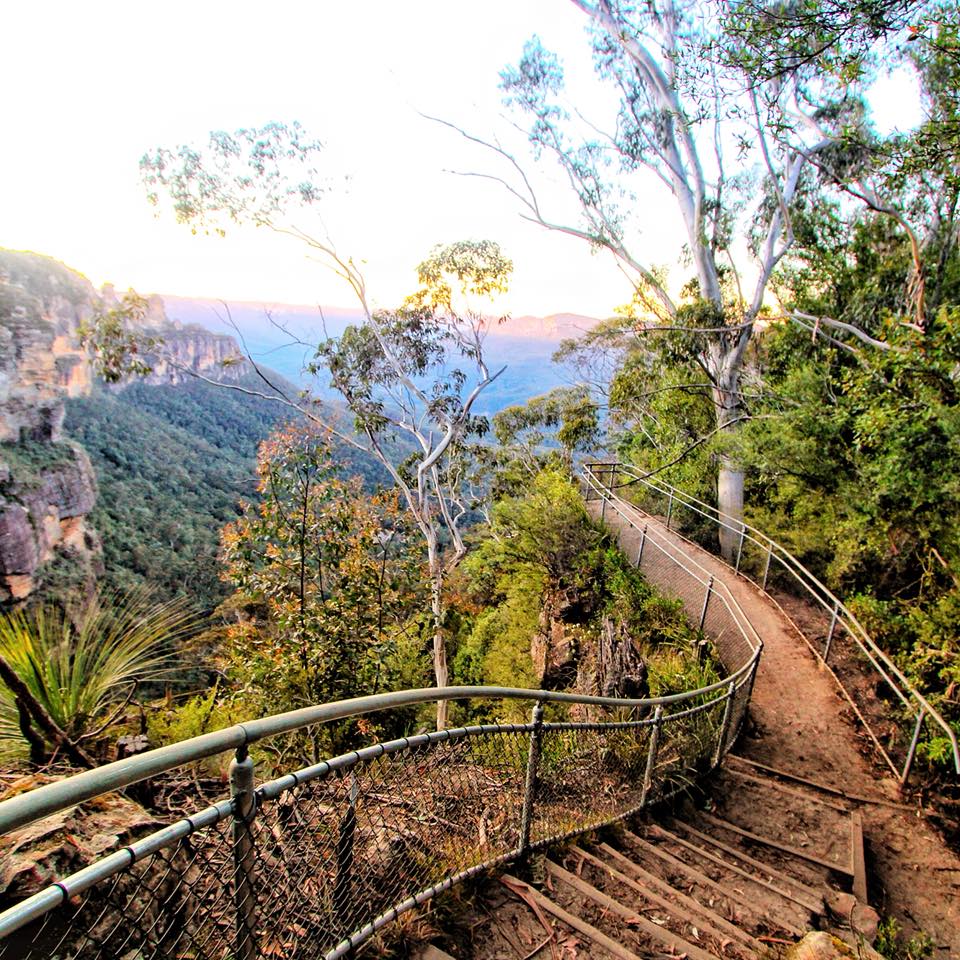 𝗞𝗘𝗬 𝗣𝗢𝗜𝗡𝗧𝗦
• Distance: 1.2km round walk
• Time: 60 mins
• Kid-safe: Yes, with supervision
• Dogs on-leash: No
• Steps: Lots and lots of them
• Grade: NPWS grade this as a Grade 3 walk
• Accessible: No
• Heights: No dramatic heights that can't be avoided. If you can handle lookouts with safety rails and a couple of flights of metal stairs, you'll be fine.
360° Virtual Tours
𝗗𝗜𝗥𝗘𝗖𝗧𝗜𝗢𝗡𝗦
Park your car at or near the old Katoomba Kiosk. HERE>> https://w3w.co/ventilator.immovable.biopic OR catch the Blue Mountains Explorer Bus and up off right there.
STEP 1: Head down the track to the bottom of the stairs. Normally you'd turn right there.
Instead, go straight ahead and head up and explore "Reids Plateau" and check out the view. It's amazing. Reids Plateau was upgraded in 2018 and is well worth a visit.
STEP 2: Head back down and take the track into the rainforest gully. There are many steps all the way down. Enjoy the amazing scenery all the way down to "Witches Leap". After rain this is an amazing sight.
HISTORY: Leap is an old Scottish word for waterfall.
STEP 3: From Witches Leap follow the track along and then down to a track junction. Here you can continue doing down Furber Steps and walk straight ahead to "Juliets Balcony". The lookout provides sweeping views of the start of the Kedumba Valley, from Katoomba Falls to the Three Sisters.
STEP 4: From Juliets Balcony keep following the track up 2 flights of metal stairs and other steps until it levels off. Soon you'll come to "Vanimans Lookout", one of the mountains' best-kept secrets.
HISTORY: Vanimans Lookout was named after Chester Melvin Vaniman and American Photographer, balloonist, inventor, and artist who lived in the Blue Mountains in 1903. This lookout was named in his honour in 1905. Described in the Sydney Mail 1905 as 'Perhaps the finest point to obtain a view of the Three Sisters, Katoomba Falls, and the Jamison Valley'.
STEP 5: After Vanimans Lookout follow the steps up to the top and where you can either turn left and go to Scenic World Blue Mountains or right and follow the track back to your car.
𝗦𝗨𝗕𝗦𝗖𝗥𝗜𝗕𝗘 to the Ask Roz Blue Mountains' "General" newsletter: http://lnnk.in/@Subscribe-ARBM-General
#AskRozBlueMountains
58559 - 10318349