The famous Blue Mountains Explorer Bus red double-decker sightseeing fleet will be back on route seven days from Saturday, December 17, after a fitful three years.
One of the longest running tourism businesses in Australia's first tourist destination, the fleet was parked indefinitely in July 2021.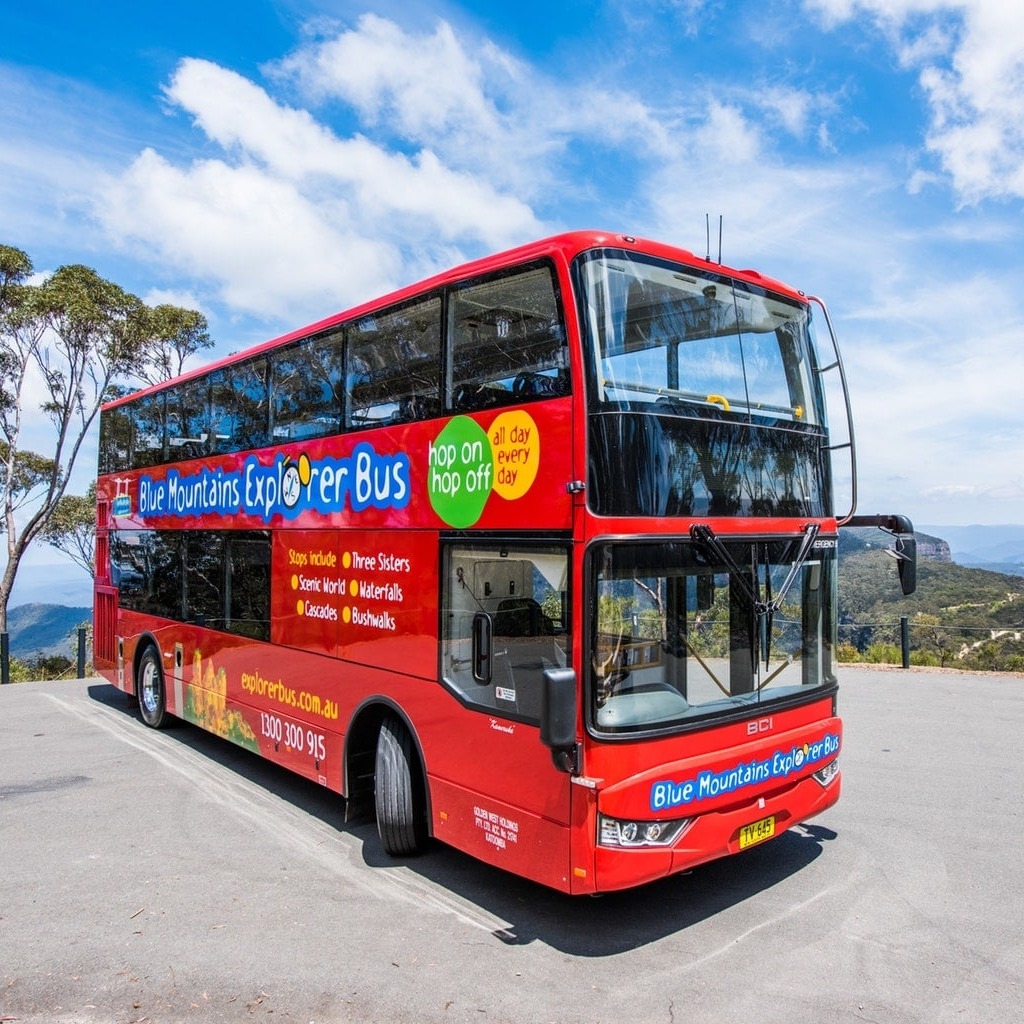 Managing director of Fantastic Aussie Tours (FAT) which owns the fleet, Jason Cronshaw, said one hop-on/hop-off bus had recently trundled the sightseeing circuit around Leura and Katoomba on Saturdays and public holidays "mainly as a marketing exercise to keep the buses in the public eye''.
"Without international visitors, it just wasn't viable to do more,'' he said.
"Now that the number of overseas guests is growing, we can operate seven days once more, albeit with just one bus.''
The past three years had been the toughest experienced by the company, which was forced to sell four out of six double-decker explorer buses and half of its overall fleet.
The Blue Mountains Explorer Bus idled for 27 days over December 2019 – January 2020 because of the bushfires and reported a 60 per cent drop in passengers between that December and February `20.
During the weekend of March 14-15, 2020, numbers plummeted another 50 per cent almost overnight because of coronavirus.
Four days later [on March 19], Explorer Bus services were slashed from 15 a day to seven, with 2.5 drivers a day to one.
The fleet then operated only on weekends and holidays, with the average weekly driver roster of 350 hours dropping to 78.
Meanwhile parent company FAT suffered an 85 per cent drop in charter work and forward cancellations from schools and corporates and other group travel.
Work picked up but came to an abrupt halt when the five-month lockdown was declared in July 2021.
"Every time we reopened there was another lockdown, so in the end we just closed indefinitely. It wasn't viable to drive a 77-seater bus out of the depot for one or two people.
"It costs us $3.50 per kilometre on a 26km circuit and tickets are $49 for an all-day pass. The maths just didn't add up.''
During the pandemic, Mr Cronshaw himself drove a morning and afternoon bus run for a local private school to feed his own family.
He now also works as head of operations at Scenic World, another long-time Blue Mountains tourist attraction.
"It was the only way to keep the business going (albeit on skeleton staff),'' Mr Cronshaw said.
"Thankfully I love my job at Scenic World and it's actually been rejuvenating, but the past three years has been really tough.
"However, I'm only one of so many business owners with assets and staff with families to feed.''
FAT did attempt to adapt the business to no avail.
"The analogy of doing a three-point turn in a three-metre-wide laneway in a double-decker bus comes to mind,'' Mr Cronshaw said.
"Everything we tried was stalled by lockdown or border closures.
"It was crushing to see the business my parents established slipping away.''
However, he was confident that fortunes had now begun to turn with encouraging inbound visitor numbers across Australia including the Blue Mountains.
"I'm not holding my breath for pre-pandemic visitation numbers for a while yet, but we are seeing a steady influx of international guests.''
Border re-openings, a weak Australian dollar, as well as the alure of a safe and sunny Australian summer compared to the bleak prospect of a European winter under energy sobriety measures were contributing factors.
"I recognise the fantastic blessing that Blue Mountains Explorer Bus, FAT and the other arm of the business, Christian Fellowship Tours, have survived when other businesses have not,'' Mr Cronshaw said.
"So I have a new appreciation for the business, the services we offer, our visitors and my brilliant staff, and I'm prepared to live and do business in this changing post-pandemic era.''
FAT has operated the Blue Mountains Explorer Bus fleet around Katoomba and Leura since 1986 and conducted sightseeing tours and charters around Australia for two generations since 1974.
Blue Mountains Explorer Bus offered an internationally-ready, 365-day a year sightseeing bus service around one of the most recognised circuits Australia offers to the world
 A second-generation tourism business, FAT has operated in the Blue Mountains since 1974.
The first Explorer Bus pulled out of Katoomba station in April 1986 carrying just one passenger
 Until the 2019-20 bushfires, Explorer Bus transported 65,000 passengers a year
One of the longest established tourist vehicle operators in NSW
 The first tourism operator in Australia to be certified under the Australian Government's Carbon Neutral Program as 100 per cent carbon neutral and the first to operate a carbon neutral bus and coach fleet
5792 - 10318526