Updated: 15th September 2021
Battleship Tops is a great spot to visit either directly or on your way too for from McMahons Point. Here: https://w3w.co/miserably.thereby.clashes
Battleship Tops is a group of high peaks located on the western side of Kings Tableland Road between Harris Hill and Pearces Mountain, Kings Tableland. One particular rock formation near the road is likened to a bow of a warship with turrets on top and gives this area its name.
Battleship Tops is an aboriginal meeting place where ochre paintings could be seen, though these have been damaged by vandalism. A 2007 survey of the area found four rock shelters with paintings and several other sites.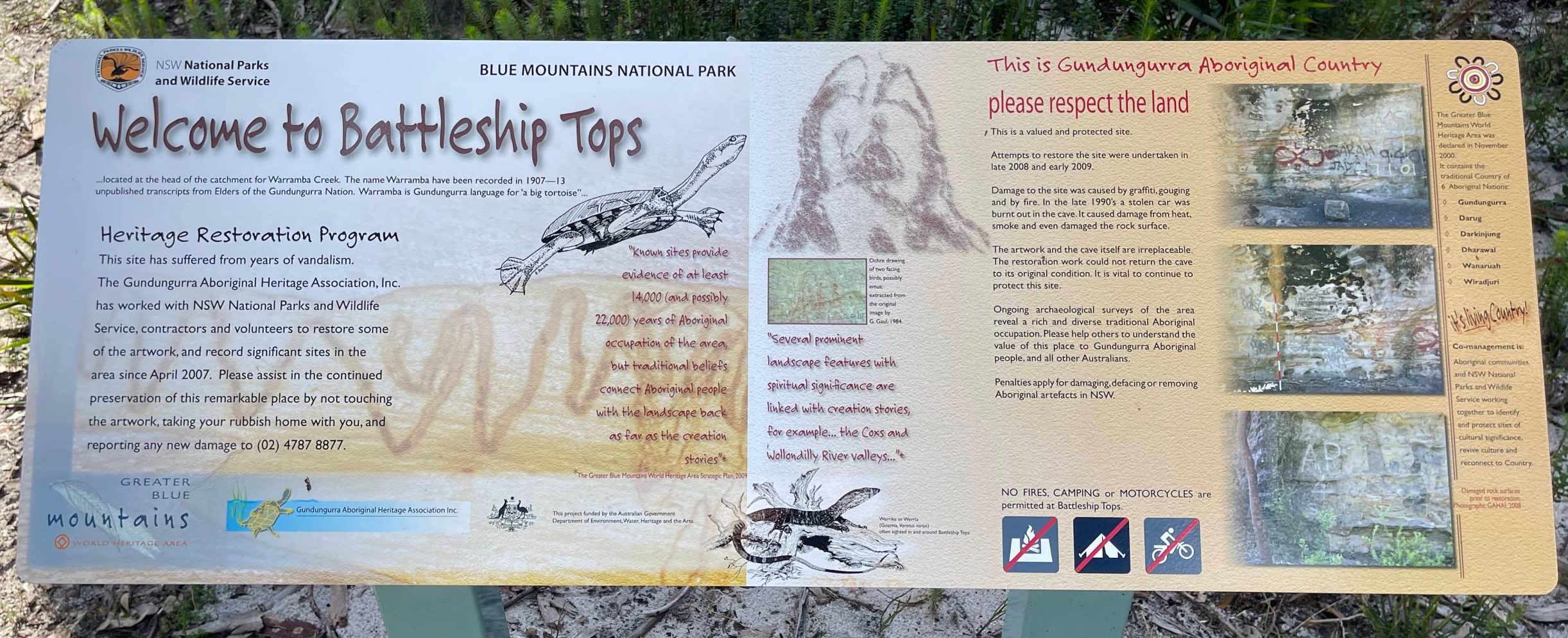 Battleship Tops is located at the head of the catchment for Warramba Creek. The Warramba have been recorded in 1907-13 unpublished transcripts from Elders of the Gundungurra Nation. Warramba is Gundungurra language for 'a big tortoise".
"Several prominent landscape features with spiritual significance are linked with creation stories, for example … the Coxs and Wollondilly River valleys …"
"Known sites provide evidence of at least 14,000 (and possibly 22,000) years of Aboriginal occupation of the area, but traditional beliefs connect Aboriginal people with the landscape back as far as the creation stories".
Heritage Restoration Program
This site has suffered from years of vandalism. The Gundungurra Aboriginal Heritage Association, Inc. has worked with NSW National Parks and Wildlife Service, contractors and volunteers to restore some of the artwork, and record significant sites in the area since April 2007.
Please assist in the continued preservation of this remarkable place by not touching the artwork, taking your rubbish home with you, and reporting any new damage to (02) 4787 8877.
This is Gundungurra Aboriginal Country – please respect the land
This is a valued and protected site.
Attempts to restore the site were undertaken in late 2008 and early 2009.
Damage to the site was caused by graffiti, gouging and by fire. In the late 1990's a stolen car was burnt out in the cave. It caused damage from heat, smoke and even damaged the rock surface.
The artwork and the cave itself are irreplaceable. The restoration work could not return the cave to its original condition. It is vital to continue to protect this site.
Ongoing archaeological surveys for the area reveals a rich and diverse traditional Aboriginal occupation. Please help others to understand the value of this place to Gundungurra Aboriginal people and all other Australians.
Penalties apply for damaging, defacing or removing Aboriginal artefacts in NSW.
Opposite Battleship Tops is a collection of really cool rock formations. Take the time to check them out.
Here: https://w3w.co/miserably.thereby.clashes
360° Virtual Tours
McMAHONS POINT info: https://www.askroz.com.au/blog/mcmahons-point-wentworth-falls/
____________________________
🔍 NEWS, WEATHER & RESOURCES: https://www.askroz.com.au/blog/blue-mountains-news-and-weather
✍️ REVIEW us on Trip Advisor: https://www.tripadvisor.com.au/Profile/askrozbluemountains
❤️ SUBSCRIBE to our eMails: https://www.askroz.com.au/blog/subscribe
____________________________
13839 - 10279887