Each week we'll look at a different person who provides a great contribution to Blue Mountains region, residents and visitors alike. This is not a paid spot.
---
8th September 2022
PHILIP HAMMON of Scenic World Blue Mountains
I was born in Kwinana Maternity Home, Leura 1945, lived in Park St Katoomba – now the car park – until 1948, then move to 38 Station St.
My Dad, Harry Hammon and his Sister Isobel Fahey, bought the lease of the Scenic Railway from Katoomba Colliery Ltd in September 1945, so my first ride was aged 3 weeks.
Educated at Miss Longs, Lurline St., Katoomba Primary, Katoomba High. Brief stint at UNSW then Harris St TAFE, Lithgow TAFE for Electrical Fitter & Mechanic, apprenticed to my Father.
Worked for Snowy Hydro upgrading accommodation huts to become School Excursion accommodation. Then Metropolitan Portland Cement at Picton, the Pope Electric Motor sales in Kingsford.
Came back to the Scenic Railway about 1970, got my Winder Driver's Ticket ("not steam" it said in large letters) and spent many hours driving both winders Skyway and Scenic Railway. The Skyway was very boring job, so much time was spent trying to automate the drive with Roy Phillips an ex PMG technician. We succeeded after many tries with various speed and load monitoring circuits.
I also had a Mobile Crane Drivers Ticket, for the converted Maple Leaf Truck, which was converted on site, then a 9 Ton Capcrane. Drove the Capcrane to many jobs around the mountains. It was very slow!
We renewed the Scenic Railway Winder in 1993 a fully automatic Ward Leonard Drive pulling three 28 seat cars. Still had to have the ticket as it could still be driven manually.
This photo is from Feb 1986, working on automating the Scenic Railway drive, still with its AC Slip Ring drive, using a new gadget for the time a PLC. (Programmable Logic Controller). Ultimately unsuccessful, the motive for the new winder in '93.
Married in 1977 to Peta Stanborough, we have 5 children and 13 grandchildren.
I resumed my drumming career when Anthea bought me a drum kit for my 60th. I had played for a momentously unsuccessful band "The Treble Clefs" in the 60's!!!  Now I play the Sunday arvo catch as catch can at the Ivanhoe Hotel Blackheath. I did play a lot with the Blue Mugs, a ukulele group but Covid put a stop to that. I now own three drum kits, and various other percussion devices.
I retired in 2010, and now spend a lot of time researching the history of the Scenic Railway, the coal mining history, and John Britty North. I have co-written a history book "The Burning Mists of Time" about the shale mining in the Blue Mountains.
I am Secretary of Katoomba Rotary Club, Treasurer of BAMACHO, President of BM Radio Players, and membership of various historic railway clubs and vintage vehicle clubs.
SCENIC WORLD BACK STORY
My father, Harry Hammon, gradually succumbed to Dementia so I was running the business by 1995.
At that stage, we were dealing with the problem of passengers being stranded in the valley because of Power outages or mechanical or electrical failure of the equipment. We had a 500kW alternator with automatic start and manual changeover, which was very effective in dealing with frequent outages during the Summer months due to thunderstorms. Nowadays, we have excellent reclosers that restore the supply in 40mS, but in those days it was more like 2 seconds and after three trips they stayed out until they could be manually reset by Endeavour.
This didn't deal with mechanical or electrical failure, so the solution was to provide a second means of access into the valley.
Within the constraints of what land we owned and the formidable inertia of BMCC, we chose a single reversible aerial ropeway supplied by Von Roll, a Swiss ropeway company that had a representative in Australia, which made communication much easier.
I spent many hours exploring the rainforest for a suitable landing site, and finally found this huge rock, which was in the right place and would save flying in many tons of concrete for the footing.
This then presented the problem of how to access it. I had spent many happy hours in the rainforest as a child, swinging on the vines, and we had an access track to the bottom anchor of the counterweight for the Scenic Railway.   This track became very slippery when wet and illustrated what would happen if we built an on-ground track. So a boardwalk was chosen, and a construction method chosen after visiting the only other two boardwalks in Australia, Fitzroy Falls and one in Victoria. Both of these had corrosion and repair problems, so we improved on their design.
Initially, we built the connection between the bottom of the Scenic Railway and the Sceniscender, (we had to change the name because Japanese people couldn't say Sceniscender) as the Sceniscender was being built.
When it was operational it could be used to transport materials for the rest of the boardwalk. I had spent many hours wandering around the rainforest as a teenager, (transport on the Scenic Railway for me was free) so I was very familiar with what I wanted people to see, the biggest trees, the Marrangaroo outcrop, and a lone ti-tree growing next to a tiny swamp.  So the two loops of the boardwalk were built over the next two years.  We helicoptered in a lot of the timber and steel, cheaper and faster than using the Sceniscender.
The Skyway had initially been built in 1958, and as the first passenger aerial ropeway built in Australia, there wasn't much expertise around. So design mistakes were made, which necessitated a few changes as time went by. It had definitely reached the end of its service life by 2002, so a replacement was needed. Von Roll, now changed to Doppelmayr, was called in again, and a system was designed to cope with expected patronage, including a landing on the Eastern side. This required major changes to the building housing the souvenir shop and a complete rebuild was necessary. The opportunity was also taken to rebuild the admin building, as the Skyway drive was being removed and that space became available.
So, by December 2005 it was all done, a brand new Skyway now carrying 75 passengers. In hindsight that wasn't enough so a rebuilt cabin was installed in  2017 with increased capacity to match the Railway and Cableway.
An eight-deck carpark was also installed in 2000, as parking had been an ongoing problem.
The 1974 winder for the Scenic Railway was replaced with an AWH three-drum winder in 1993, which has since been replaced by fully automatic Garaventa winder in 2013. This winder enabled the counterweight to be done away with as VFD (variable frequency drives) had become available which could pass the very large amount of regeneration energy back into the mains.  The maintenance requirements of the counterweight were onerous and expensive, so doing away with it was an easy decision.
We (being the Hammon Family) have successfully passed the management of Scenic World to Anthea, and the running of BridgeClimb to David. We are very serious about succession planning, and have been used as star examples of creating such planning amongst the Family Businesses of Australia. We have a Family Council and a Family Constitution, and if any family-owned businesses want advice on how to implement such a scheme, we are only too happy to help.
---
---
1st September
Christine Thompson of Christine's Millinery.
"Milliner for theatre, opera and film, Christine Thompson, of Christine's Millinery, has been making hats for more than 25 years.
Christine started her millinery life at Opera Australia, first as an assistant milliner, then head Milliner. She said she always wanted to be part of the world of theatre and was fortunate enough to learn her craft from some of the best industry experts.
"Creating hats and headwear for theatre is always an interesting experience, sometimes stressful, but overall fun".
Christine's creations have appeared in the feature film Moulin Rouge, in live performances of Frozen & Aladdin, Muriel's Wedding, King Kong, Love Never Dies, Dr. Zhivago, Chitty Chitty Bang Bang, and Rosencrantz and Guildenstern are Dead. Her creations have also featured in the operas My Fair Lady, Carmen, The Magic Flute, Madame Butterfly, Phantom of the Opera, and The King and I.
Christine creates custom designs for a variety of clients. She has had the pleasure of making custom-made hats for many celebrities for use in their shows, feature films, and music videos. Including:
• Nicole Kidman's black velvet top hat for Moulin Rouge, which can be seen in her performance of Diamonds are the Girls Best Friend.
• Tara Moss's Steampunk hats and wide-brimmed Sun hats can be seen in many of her Instagram posts.
• Katy Perry's turban headdresses for American Idol and Musical Treble Clef headdress for the Jazz and Heritage Festival in New Orleans, and
• Glenn A Baker's distinctive Fez hats for Music Awards and TV presentations.
In between working for theatre and film, and designing for celebrities, Christine opened her studio in Woodford, a leafy suburb nestled in the beautiful Blue Mountains National Park to the public.
If you would like to look and feel like a celebrity with a custom creation, or go for the more practical hat or cap, make an appointment via email or mobile to discuss your needs. eMail: christinesmillinery@gmail.com – Tel: 0430 197 600″
Ready-made hats are available from website https://christinesmillinery.com
FB @ChristinesMillinery
IG instagram.com/christinesmillinery
---
---
25th August 2022
𝗞𝗔𝗥𝗔 𝗖𝗢𝗢𝗣𝗘𝗥, Mount Victoria designer extraordinaire, and founder of Mount Vic and Me.
"I'm Kara from Mount Vic and Me. Our business is all about fun, nostalgia, Australiana, political and feminist goodies which we ship via our quirky studio shop on the highway in the beautiful village of Mt Victoria. Our Blue Mountains Socks, greeting cards, tea towels and brand new skirts are proudly Australian made and we have other fab finds including t-shirts, mugs, cushions, fabrics, upholstered goodies, jewellery and more.
I started Mount Vic and Me from home in 2013 as a graphic designer sick of working for others. With just 5 greeting cards that I had designed, I walked around shops in the Blue Mountains hoping to find stockists. I got a couple of bites and whatever sales came through I kept designing cards and growing the range. Fast forward to 2022, we have over 160 stockists across Australia. Who would have believed it?!
Everything here at Mount Vic and Me is about colour. The more vibrant the better! People walk in a bit bamboozled and don't know where to start looking. We have lots of fun conversations with people discussing politicians – and even get visited by them. We are often described as a 'best-kept secret' with so many Blue Mountains folk yet to discover us.
I love our little village here. It's a very special place with the Central West hanging just below us to the west, access to the Darling Causeway and heading along Bells Line of Road with all their amazing experiences too. We are such a 'connection' between two great roads and we encourage people to travel right through – not just stop at Katoomba. Mount Victoria is often forgotten as a tourist destination which is sad. It's incredibly beautiful and is a true Victorian heritage-listed village – and we have lots to do here. And hey, if it's gonna snow, we are the place to come to!
Mount Vic And Me's studio is run as an online business, wholesale and pop-up retail space. So if you can't get here, we love to send your gifts to loved ones for you (we even include a Tim Tam!).
We'd love to invite all people to come visit us – check out our open times, here: https://mountvicandme.com/studio
FB: @MountVicandMe
IG: www.instagram.com/mountvicandme
---
---
18th August 2022
𝗡𝗜𝗖𝗢𝗟𝗘 𝗥𝗜𝗟𝗘𝗬 who promotes 3 local markets in the Blue Mountains.
Nicole said: "I'm the owner of Magpie Up Style Market, Springwood Growers Market, and the manager of Blackheath Growers Market, I also manage a market up at Swansea (Pelican Foreshore Markets).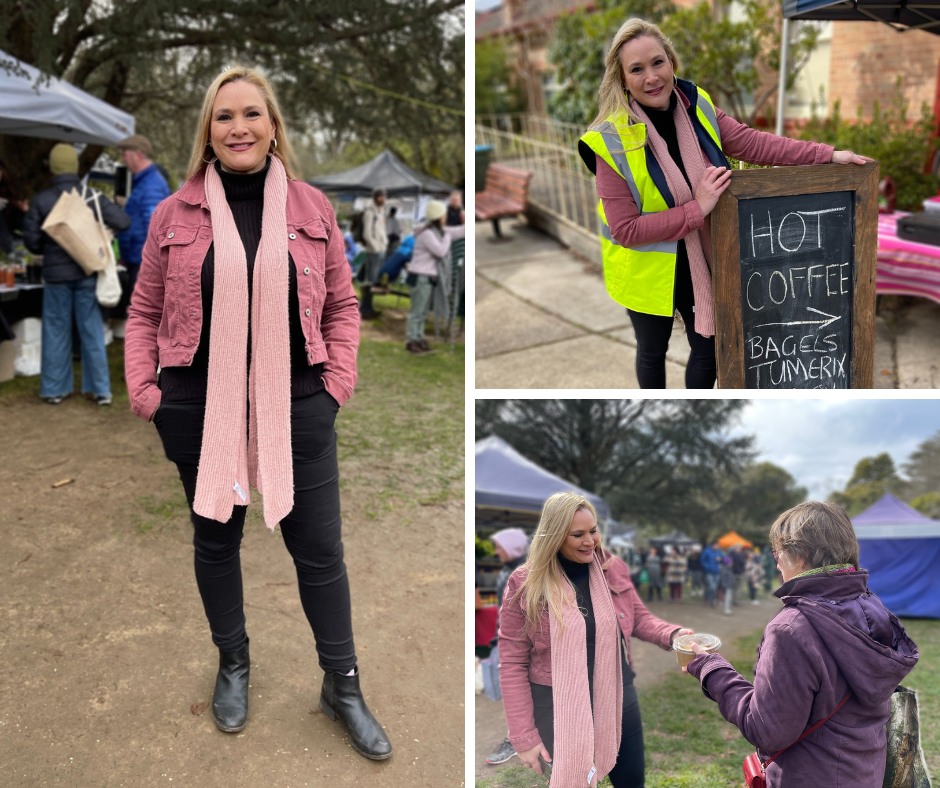 I have been running markets in the Blue Mountains since I started working for Black Castle Events back in 2009.
My interest in farmers and producers' markets, in general, goes back to 2004 when I lived in the UK and travelled with my family around Europe.
I fell in love with the little village farmers' markets in England and then in Italy and France. I loved how the locals would support small local and regional producers instead of the large supermarkets.
You can talk with the stall holders, ask where their food is coming from and how it was raised or grown.
I also loved how the markets bought the community together. The social aspect always drew me to either attending or managing markets, especially food. Food tends to bring people from every nationality, race and background together.
When I finished my travels, I came back to Australia and got a job in the Retail sector, where I met Polly Feneck the owner and Organiser of Blackheath Growers Market and Castle Hill Fine Foods Market.
When I found out what Polly did for the work, I said do you have any positions available as running farmers' markets and markets is what I feel I was born to do.
Well, I got the job and I have been involved in organising and running events ever since. In time I began managing Blackheath Growers Markets and not long after that in 2015 I bought Springwood Growers Market which was a small market at the time, it's now grown into a thriving market that stallholders are on a waiting list to attend.
In 2021 I took over a long-running market in Lawson called Magpie Market, and rebranded it to Magpie Up Style Market, the first thing I did was add food stalls to the Magpie, and now this too has become such a successful market that people travel from Sydney and further to come to.
I'm in my element, now and I'm happy to say you can shop 3 times a month from the markets I run.
As I have 4 markets that I either own or manage and run Food and wine festivals in the Hawkesbury, I changed my business name to All Events Markets and Festivals which gives me the opportunity in the near future to expand by running Food and Wine Festivals and Twilight markets in the Blue Mountains.
I feel so privileged to be able to follow my passion to give small local and regional producers a platform to sell their products.
I am able to with Magpie Up Style Markets support many artisans such as timberwork, leather work, Needlework, jewellers, quilting handicraft, soap and candle makers, Artists, local Authors, musicians and of course food stalls.
I feel very blessed to run markets in such a beautiful place like the blue mountains and to follow my dreams.I 'm also grateful to my mentor Polly Feneck for putting her faith and trust in me and giving me a go nearly 14 years ago
I love promoting the blue mountains and the markets I run here. The great thing about my job is I get to see people enjoy themselves with family, friends, and their community just like the village markets overseas.
I love encouraging locals and visitors to come and explore the markets and the many beautiful places in the blue mountains.
Web: https://www.alleventsmarketsandfestivals.com.au
---
7572 - 10318652