"VISITOR PAY SMART PARKING" is to be implemented in the Blue Mountains, after the BMCC adopted the Parking Strategic Plan 2023 at the February Council meeting.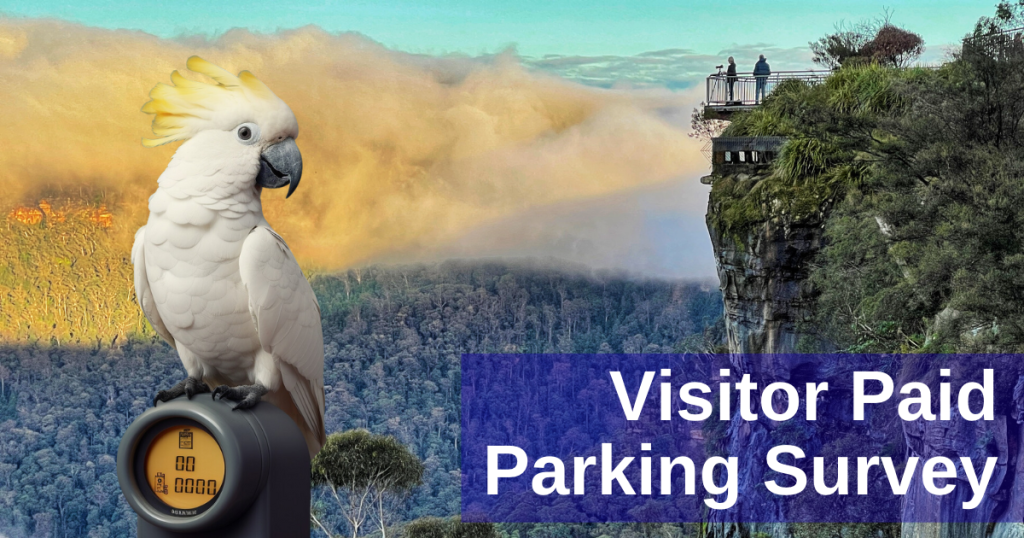 CHARGES: Proposed charges are: $50 for a day pass. $8-$10/hr for parking within the villages (stage 1) and $10-$12/hr for parking at tourist destinations (stage 2).
OBVIOUS QUESTIONS:
How will the $10hr cost impact small businesses in the impacted villages at a time when they are just starting to recover from COVID and a dramatic increase cost-of-living.
Is $10hr fair and reasonable, or should it be more?
If you live outside the Blue Mountains LGA you will be paying these fees change when and how often you visit the Blue Mountains? LGA map: www.bmcc.nsw.gov.au/documents/city-of-blue-mountains-ward-boundaries
---
---
NEWS 15th May: Make Lincoln's Rock top priority for paid parking: Cr Romola Hollywood 
BACKSTORY: The smart parking project is to be rolled out in stages, the first being existing time restricted parking locations in Blackheath, Katoomba, Leura, Wentworth Falls and Glenbrook town centres.  The second rollout will be at high demand visitation sites.
BMCC spokesperson, Cr Mark Greenhill, said: "We had strong agreement with the proposition that visitors should pay to park in key locations in the Blue Mountains. Many people responded by saying they were surprised Council had not done this earlier.
All residents of the Blue Mountains local government area will be able to apply for Resident Permits when smart parking commences in July 2023, which will enable them to park without paying throughout the City. These permits will be validated through the verification of a NSW Government approved license, that displays the place of residence.
Residents will have to adhere to time restrictions in each location.
Employee and Business Permits will provide free parking within town and village centres to enable individuals to park for free near their workplaces, but will exclude tourist visitation sites.
Smart parking will be rolled out in existing time restricted parking locations at Blackheath, Katoomba, Leura, Wentworth Falls and Glenbrook over the coming months, and be operational by July 2023.
It is expected that high demand visitation sites will also have smart parking facilities (including sensors and parking metres) operational by November 2023, once a Parking Precinct Plan has been developed.
These sites include:
Cahill's & Boar's Head Lookouts, Katoomba
Echo Point Precinct, Katoomba (expansion of existing)
Katoomba Falls
Gordon Falls, Leura
Leura Cascades
Wentworth Falls Lake
Falls Road adjacent to Wentworth Falls Lookout
Fletcher Street and Valley Road adjacent to Conservation Hut, Wentworth Falls
Lincoln's Rock
Visitors will be required to pay to park at these locations – either via individual permits, or daily permits.
MORE info: https://www.facebook.com/AskRozBlueMountains/posts/pfbid0Sk455zuCPSRGx3vtJYUNm9mvfXxKyrJky3xsC77fYsmQYZhHRhR4JsS6AxLe6Gval
Get more information at: bmcc.nsw.gov.au/parking-strategic-plan
MORE info: https://www.bmcc.nsw.gov.au/…/parking-strategic-plan-2023
Even MORE info: www.bmcc.nsw.gov.au/media-centre/visitor-pay-parking-to-be-rolled-out-blue-mountains-during-2023
49573 - 10318415