Photo © Brigitte Grant Photography
Festive flavours, toasty fires and cheery decorations will create a warming oasis within the grandest of the grand hotels of the Blue Mountains this Yulefest.
Each Friday and Saturday throughout July, visitors to the Hydro Majestic Hotel at Medlow Bath, can indulge in a decadent high tea featuring nostalgic flavours such as ginger, cranberry and roast pork. Guests at Darleys Restaurant and Echoes Restaurant at Katoomba will feast on a Yulefest-inspired menu.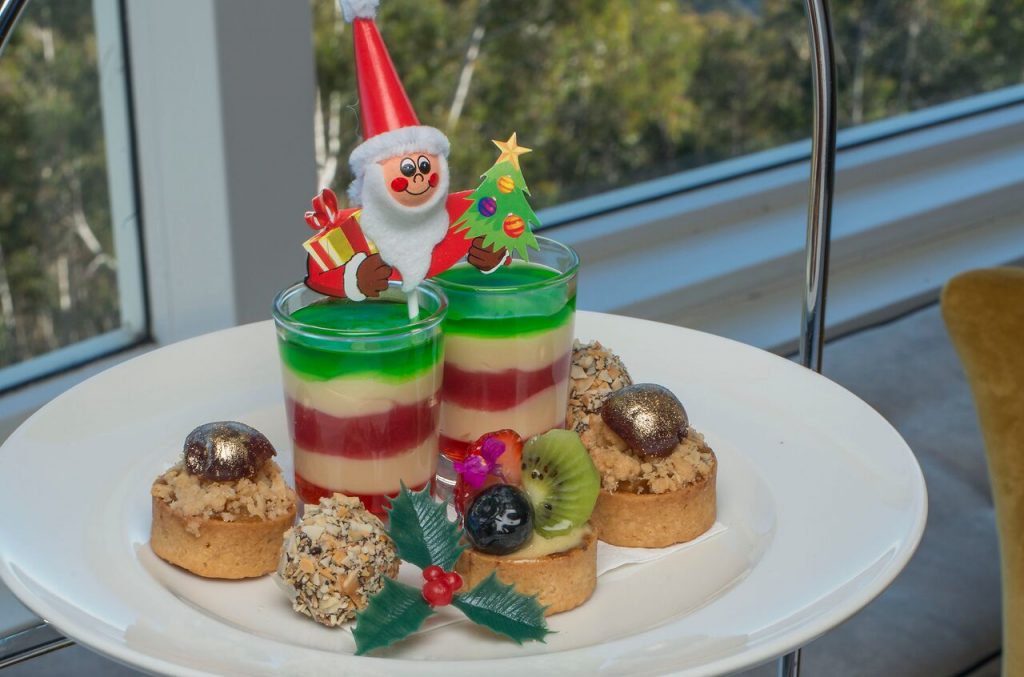 Or, indulge in a decadent five-course degustation at the Hydro Majestic beginning with a lobster bisque amuse, followed by an entrée tasting plate of butter poached Balmain bug, chicken and lemon terrine, piccalilli and poached baby pear, prosciutto and herbed goats cheese, a main of turkey roulade and roast pork belly with cranberry and chestnut jus; a mini toffee apple cleanser and a traditional plum pudding dessert then tea/coffee and gingerbread and chocolate truffles.
The exquisite experience begins on arrival as guests are wowed by the grandeur of the Casino Lobby with its iconic domed roof and spectacular chandelier before walking through the understated elegance and warm ambience of the Wintergarden Restaurant with its ornate fireplace and magical mist-filled Megalong Valley views.
Hydro Majestic Hotel head chef Mate Herceg said Yulefest had been a tradition in the area since 1980 and today, winter was the season for which the Blue Mountains was most famous: "It gets us into the festive season twice a year and really, who doesn't like Christmas? It's a time to come together, eat, drink warming beverages and share stories.''
Escarpment Group general manager Ralf Bruegger encouraged guests to fully immerse themselves in the festive atmosphere by staying at least one night: "Yulefest in the Blue Mountains offers the European-style atmosphere people associate with Christmas – a chilly landscape outside and cosiness inside with roaring fires, hot food and drinks, traditional decorations and festive music, but without the stress and frosty relatives. Sometimes there's even snow as a special surprise.''
Go to hydromajestic.com.au to book the Yulefest degustation at the Hydro Majestic Hotel. Cost: $125 adults, $50 children aged 3-12 years.
Use your free Ask Roz Blue Mountains app to find great things to see and do.
Free Apple app
Free Android app
WHAT'S ON
Today: http://bit.do/Whats-On-Today
Tomorrow: http://bit.do/Whats-On-Tomorrow
#AskRozBlueMountains #VisitBlueMountains #VisitLithgow #VisitOberon #AskRozAU #AskRozBlueMountains #AskRoz #SeeMoreDoMore www.askroz.com.au Visit Blue Mountains Blue Mountains Visitor Information Centres