Blue Mountains Luxury Stays
Clean air, fresh, alive, exhilarating, adventure, relaxation, nature – the Blue Mountains has almost everything you need for a luxury getaway. Visitors come from across Australia and the world to spend some time in the amazing national parks we take for granted here in the Mountains, and it's not hard to see why. Where else could you wake up in total luxury surrounded by the birds singing, spend the day exploring waterfalls,

valleys, and views, take part in tasting some delectable local produce, and then relax in comfort in front of a fire with a glass of wine in hand?
Mountain Whispers is well situated to take advantage of any kind of Blue Mountains getaway you can imagine from spa weekends and girls' getaways to a private and romantic location to propose to your loved one or celebrate your wedding anniversary.
Varenna
Set on 1,800 square metres of landscaped gardens and just two minutes from Leura Village, Varenna is perfect for small group weddings and other celebrations. The property is fully self-contained and sleeps up to eight people in this fully restored Edwardian architectural masterpiece.
When you first walk into Varenna, you will be taken aback by the grand living and dining rooms with antique furniture and furnishings. When you step into the kitchen, you'll notice the original wood burning stove taking pride of place, while in the main bathroom, you'll find the fully restored original antique claw-foot bathtub.
What's Nearby?
Leura Mall is a short walk for dining and shopping, while you can explore nature at the Bridal Veil Lookout, Elysian Rock Lookout, Gordon Falls Lookout and the Pool of Siloam. Pick up some tasty treats for a picnic lunch at Leura Cascades Picnic Area and spend the afternoon exploring the Everglades Historic House and Gardens.
Perfect For?
Varenna is the perfect Blue Mountains getaway location for small group gatherings, girls' getaways complete with in-house dedicated treatment room – La Bella Rouge or celebrating any special occasion.
Leura Rose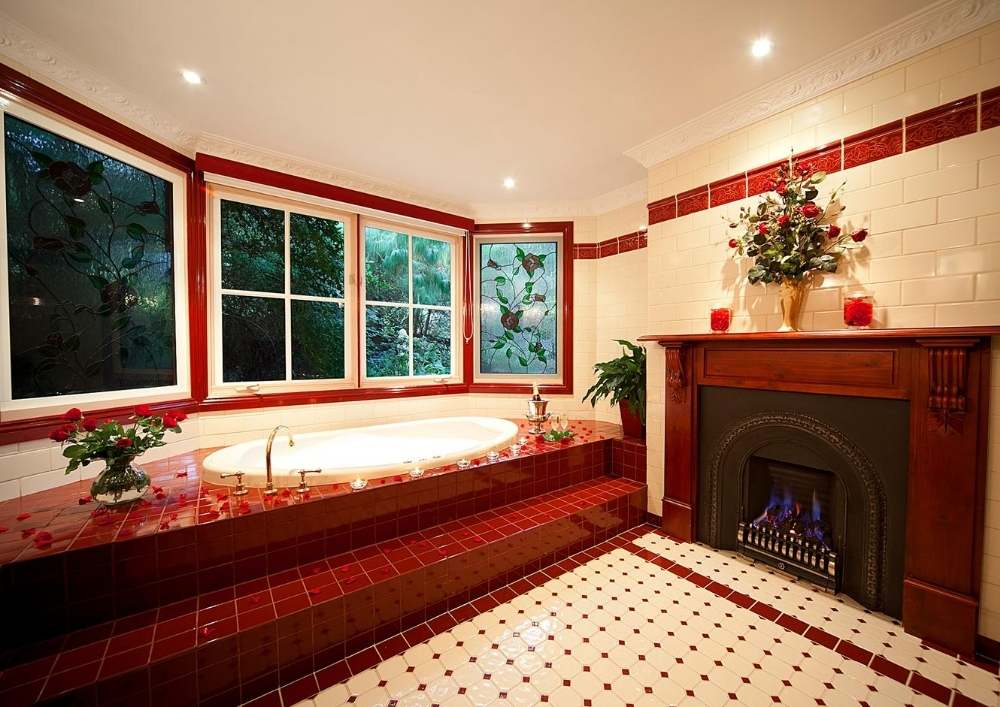 Take a romantic getaway to a beautifully restored 1914 Blue Mountains weatherboard home just minutes from Leura Mall. Fully self-contained with enough room for six people, you'll certainly find a way to relax and unwind in Leura Rose.
One of the first things you'll notice is just how private the property is. Relax with your morning coffee and a good book on the north-facing patio taking in the lush gardens, enjoy a pre-dinner glass of wine on the verandah and settle in for some good conversation and a glass of red in front of the fire.
In Leura Rose, you'll find timber and classic period finishes, plush sofas and classic four-poster mahogany beds, while the main bathroom is amazing with its own gas log fire to enjoy while in the spa.
What's Nearby?
Leura Rose is a great spot to start exploring the Blue Mountains. The Greater Blue Mountains Drive is close by, as is Empress Falls, Sublime Point Lookout, Valley of the Waters track, and Lodore Falls. Leura Mall is a 10-minute walk or a short drive.
Perfect For?
Leura Rose is perfect for a romantic getaway or catching up with a small group of friends.
Strawberry Patch
Strawberry Patch is a classic 1912 Blue Mountains weatherboard that visitors just love. Conveniently located, this two-bedroom property might only be 100 metres from Leura Village, but there is a real sense of privacy and stillness.
Strawberry Patch is well suited to those looking for a private getaway with a cosy loungeroom to snuggle up in, gardens to explore, a double spa with underfloor heating with views over the garden, and a sunny patio to enjoy brunch or just sitting and listing to the birdlife.
Amazing during the warmer months, Strawberry Patch absolutely glows when there is snowfall in the Blue Mountains, turning this cottage into something you would expect in a fairy tale.
What's Nearby
Leura Village is a minute or two away on foot, and it's a great base point to explore Kiah Lookout, get a great view of Bridal Veil Falls, Leura Cascades, Honeymoon Point and Dardanelles Pass Loop walking track.
Perfect For?
Strawberry Patch is perfect for a romantic couple's getaway or those seeking a private haven to pop the BIG question to their love. Expect to totally relax and recharge whilst embracing this gorgeous this slice of heaven tucked away in it's own lush, totally private garden.
The Gatsby
Owner and operator of Mountain Whispers, Lorraine Allanson loves all things Art Deco, so we'll give you one guess what design style you'll find at The Gastby. The romance and glamour of the Art Deco period is certainly here, and you'll notice it as soon as you step into the property. The Gatsby has a great set up for small groups, with the main house able to sleep one to two couples, while the fully self-contained cottage can sleep another one to two couples.
There are lots of little Art Deco features in The Gatsby to discover during your stay – custom-made art deco lead-light windows, a gorgeous double spa, artwork and small feature pieces. Fully self-contained, enjoy meals on the patio, and finish your night with a red wine and some tasty local treats while relaxing in the loungeroom with the gas log fireplace going.
What's Nearby?
The Gatsby is just a few minutes from the main shopping area of Katoomba, and in a great location to explore Katoomba Falls, Prince Henry Cliff Walk taking in Lady Darley Lookout, Echo Point, The Three Sisters, Cliff View Lookout, and the Giant Stairway.
Perfect For
The Gatsby is a great spot for girl's weekends away, those looking to celebrate special occasions and the outdoorsy individual in search of a fabulous walking trail to take in the sights and splendour of what the Blue Mountains are renowned for. The Gatsby is very favoured by the LGBT community – Mountain Whispers is certainly pink and LGBT friendly across the entire Collection, although The Gatsby is certainly a favourite amongst the community with all the flamboyant Art Deco embellishments which adorn this gem.
Chatelaine
Chatelaine is the latest addition to the Mountain Whispers stable and combines the essence of Art Deco entwined with the glamour of Hollywood Regency. Chatelaine has been well loved by those booking a group getaway with friends to catch up in uber style.
With a bespoke garden design, flanked by views of the Jamison Valley on one side and the Megalong Valley on the other. Chatelaine sits perched on over 4797sqm of manicured gardens and lawns that seem to never end, there is plenty of space to spread out, relax and be amongst nature. The perfect mind, body and soul escape if you want to close the front door and leave the world behind.
Completely self-contained luxury, Chatelaine is a 5-star marvel which needs to be seen to be believed. Full sized billiard table with views across the Jamison Valley, alfresco dining providing you with the perfect spot to enjoy breakfast amongst the colourful birdlife or a late afternoon drink with breathtaking views, and a very comfy leather lounge complete with ornate gas-log fire inviting you to sit and enjoy a glass of port whilst being mesmerised by the beauty.
Chatelaine sleeps up to six, and with bushwalks practically on your doorstep, it is one of the most spectacular private properties in the Blue Mountains to simply escape and recalibrate. Prepare to step back in time.
What's Nearby?
A short drive to the main area of Katoomba, there is plenty to discover close by including Cahills Lookout (great for sunset), Boars Head Lookout, Scenic World, Narrowneck and Malaita Lookout.
Perfect For?
Chatelaine is perfect for group getaways or small family celebrations.
At each Mountain Whispers property, you'll receive complimentary breakfast provisions for the first morning, indulgent toiletries and complimentary port, wine and chocolates on arrival. Lorraine can also arrange for indulgent extras such as in-house massages and/or facial and items for special occasions including roses, celebratory cakes, antipasto platters and more.
Book a Blue Mountains luxury stay at one of five Mountain Whispers properties, and you'll go home feeling relaxed and refreshed….if you ever want to leave.
Book direct with Lorraine on 1300 721 321 or online.
Total: 26332 Today: 7