FREE promotion
Ask Roz
Blue Mountains Visitor
WINTER edition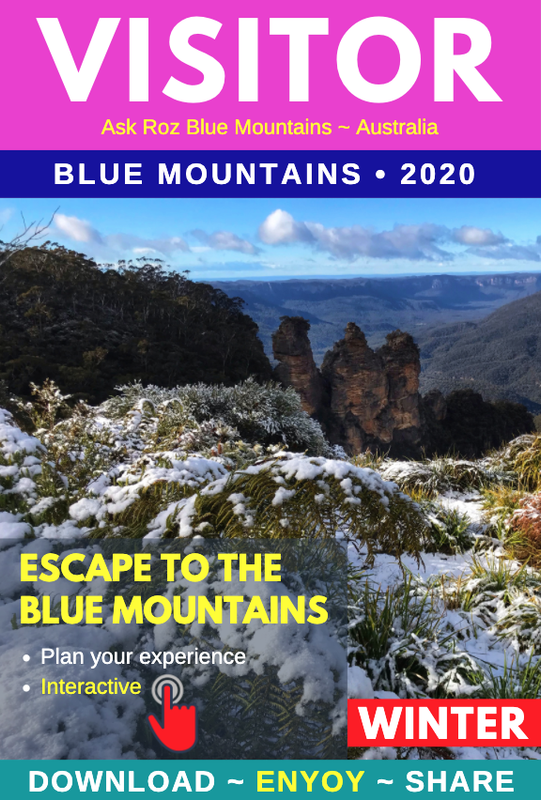 >> If you are already in the Autumn edition, you DO NOT NEED TO do anything else <<
EXCLUSIVE & FREE. To support those businesses who have been impacted by the December fires and now COVID-19 we are offering every one of them a FREE 1/2 page promotion in our upcoming digital eMag.
The eMag will be released on 3rd June 2020 and will feature the best of the Blue Mountains. It will include exclusive photos and content and promotions from participating businesses. The free promotional adverts will appear after the main content.

AVAILABILITY
The issue will be available through a network of digital distribution aggregators who have strong local and overseas reach and well as local businesses.

AUTUMN edition: The Autumn edition was viewed by over 25,000 times. Click here to see the Autumn edition.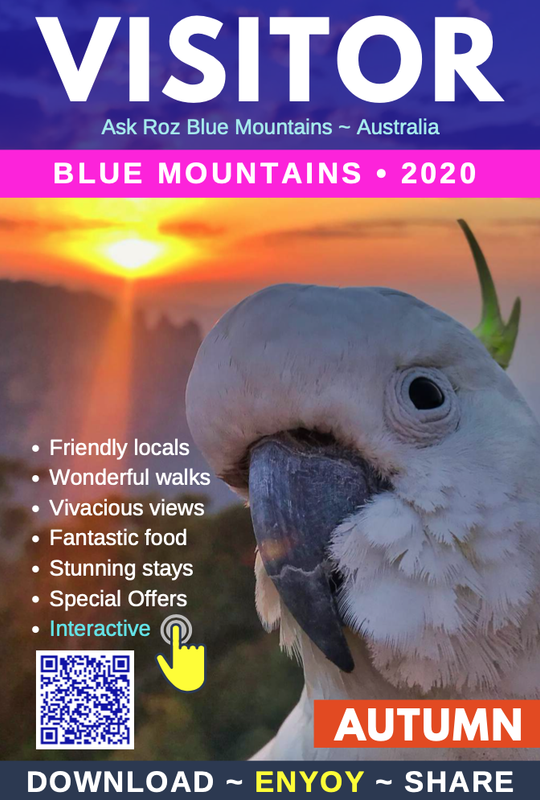 This eMag will be active for all of 2020.
INTERACTIVE
The eMag will be INTERACTIVE allowing users to click through for more information, get directions and even make bookings.
DO IT NOW
If you'd like a FREE promotion for your business, simply click the link below for more information.
Expressions of interest close MONDAY 1st June.

>> CLICK here to book your FREE promotion

EXAMPLE
Below is an example of the layout of the free promotions. Each contains:
2 active links, one to "maps" for the user can get turn by turn directions to the business and one that open the Ask Roz promotion for more information and links.
3 square photos
Appriximatley 6 lines of text. Additional information and links are available when the cuser clicks on the "More information" link in your promotion.

The published promotion, when seen full size is approximately 900px x 600px. Naturally, the viewing sizes depends on the device it is being viewed with.

UPGRADE OPTIONS
In addition to your free 1/2 page promotion, you can choose from the following options.
Display ad space is available in the main body of the magazine. Artwork is required for this. Prices vary depending on size and you ONLY PAY FOR READERSHIP. Display ad rates start from less than 1 cent per read.

NB: While we expect the issue to have a readship up to 50,000, we cap Display Ad payments at only 10,000 readership Pay Per View (PPV).

EDITORIAL: Some Display adverts can be used as an advert, editorial or a mix of advert and editorial.

ABOUT ASK ROZ
Ask Roz was established in 2014 with the objective of empowering people to find great things to see and do.

In addition to the Ask Roz website, there are also Ask Roz mobile apps , eMags and Information Kiosks.
Get your FREE Ask Roz Blue Mountains app. Apple - Android
Ask Roz have achieved a number milestones
2019 NSW Regional Tourism Awards ~ GOLD ~ Specialised Tourism
2019 NSW Tourism Award ~ Finalist ~ Specialised Tourism

2018 NSW Tourism Award ~ GOLD ~ Specialised Tourism
2018 Australian Tourism Award ~ Finalist ~ Specalised Tourism
2017 Blue Mountains Business Awards ~ GOLD for Innovation
2017 Blue Mountains Business Awards ~ Hall of Fame for Innovation
2017 NSW Tourism Award ~ Finalist ~Specialised Tourism
2016 Blue Mountains Business Awards ~ GOLD for Innovation
2016 NSW Tourism Award ~ GOLD ~Specialised Tourism
2016 Australian Tourism Award ~ Finalist ~ Specalised Tourism
2015 Blue Mountains Business Awards ~ GOLD for Innovation

2014 BMLOT Tourism Awards ~ GOLD
2014 Blue Mountains Business Awards ~ Highly Commended New business