Total views: 31893 ~ Todays views: 538

---
Media Release: 21 September 2021
Duplicating the Great Western Highway between Lithgow and Katoomba
Medlow Bath residents have been ambushed during COVID with TfNSW's plans for a 4-5 lane highway widening through their village, home of the Hydro Majestic Hotel resulting in the heritage and tourism appeal of this historic village being destroyed.
The NSW Government is committed to duplicating the Great Western Highway between Lithgow and Katoomba to improve freight to the Central West and lift the current ban on 26m B double & 30m A Rigid trucks.
NSW Minister for Regional Transport & Roads, Paul Toole MP, has announced plans for an 11 kilometre four-lane tunnel bypassing the villages of Mount Victoria and Blackheath which then emerges above ground through historic Medlow Bath to Katoomba.
Medlow Bath residents say the proposal fails to consider continuing the 11km tunnel under Medlow Bath to Katoomba and the associated economic, social, environmental and heritage benefits.
Failure to do an Environmental Impact Study (EIS)
Rather than do one Environmental Impact Study for the entire Katoomba to Blackheath section, TfNSW presented residents with a Review of Environmental Factors (REF) for the 1.2km stretch of highway through Medlow Bath only. This will be followed shortly with a REF for the sections between Katoomba and Medlow Bath and Medlow Bath and Blackheath.
The National Trust (NSW) Blue Mountains Branch, Blue Mountains City Council, the Hydro Majestic Hotel, together with the Medlow Bath Residents Association, Medlow Bath Action Group and Blackheath Area Community Alliance (representing over 20 local groups) call on the Minister, to immediately halt the TfNSW proposal because:
The Consultation process failed to meet best standard consultation guidelines.
The piecemeal series of REF's is inadequate and has been done to avoid TFNSW statutory obligation to do an EIS of the whole area from Katoomba to Blackheath.

An independent feasibility study into the alternative option of extending the 11km tunnel to Katoomba must be promptly undertaken. This option delivers more value for money than a dual carriageway surface road from Katoomba to Blackheath plus the 11km tunnel. The additional cost of $300M for the 19km tunnel delivers $3bn of benefits over 25 years.*
Sham consultation process
On 27 July 2021 Medlow Bath residents were presented with 1000+ page REF with only 4 weeks to review and comment. After public outcry Mr Toole and Mr Barnaby Joyce announced an extension of the consultation period, by a mere 10 days, despite the hard lockdown continuing. This haste has reinforced community perception that the project is politically driven by the Nationals, whose commitments to the Central West take priority over its legal and moral obligations to engage with the Blue Mountains community and different levels of government.
The National Trust (NSW) is concerned the consultation is flawed. "Running a couple of online forums in the middle of a pandemic when people don't have access to computers and stable internet is not proper community consultation," said The National Trust (NSW) Blue Mountains Branch Chair Rod Stowe.
The National Trust (NSW) is also concerned the scope of the REF is too narrow. "The proposed duplication through Pulpit Hill (Katoomba) and Medlow Bath will have massive impacts and the community deserves to have access to all the information and for their concerns to be properly addressed, we simply cannot afford to get this wrong," said Mr Stowe.
Co-Owner of the Hydro Majestic Hotel George Saad feels his concerns are not heard stating;
"The Hydro is a major tourism destination in the upper Blue Mountains; everybody has some connection with this iconic and historic establishment. Like all tourism businesses we are suffering under the COVID lockdowns. Despite the lockdown TfNSW is trying to resume key parts of Hydro's property, jeopardising our future DA approved expansion plans".
The community is angry and upset at the lack of community respect. Medlow Bath Action Group President Stephen Caswell said: "This far-reaching proposal will turn our village into a four-lane freight corridor wedged between the Hydro Majestic Hotel and the heritage-listed train station. There are too many unanswered questions about safety, access, heritage, tourism, noise, light and air pollution, and storm water runoff into the water catchment and World Heritage-listed Blue Mountains National Park".
Katoomba to Medlow Bath section concerns
The community are concerned the proposed section from Katoomba to Medlow (across Pulpit Hill) will require two bridges spanning more than 1500m over the main water catchment in the Upper Blue Mountains. This will require water treatment plant to prevent pollution of the water supply. The surface road will continue to be subject to snow, ice, fog, wind, storms and bushfires. The REF of this section has not been released.
Support for a 19km tunnel
A 19km tunnel would avoid the need for span bridges, the risk to the water catchment and the massive impact on the historic village of Medlow Bath. The whole upper Blue Mountains is concerned TfNSW won't even consider extending the tunnel under Medlow Bath. Blackheath Area Community Alliance Secretary Michael Paag said:
"The $8 billion upgrade of the highway between Katoomba and Lithgow is far too important to Medlow Bath, the Blue Mountains and the NSW Central West to ram through in the middle of a COVID lockdown. If the NSW Government is serious about solving the transport needs of the Central West it should investigate the alternative proposal for the tunnel under Mount Victoria and Blackheath to be extended under Medlow Bath to Katoomba. This will deliver safer more reliable access to Sydney and preserve the upper Blue Mountains amenity, environment, heritage and tourism."
Co-Owner of the Hydro Majestic Hotel George Saad agrees, "Extending the tunnel under Medlow Bath will greatly benefit Blue Mountains tourism. The National Trust (NSW) Blue Mountains Branch supports the alternative proposal for the tunnel under Mount Victoria and Blackheath to be extended under Medlow Bath to Katoomba because this will better protect local natural and built heritage," concluded Mr Stowe.
The Business Case Ratio (BCR) for the 19km is 2.1 where as the BCR for the 11km and dual carriageway is 1.5. The cost benefits of the 19km include: shorter time to complete, no disruption during construction, removal of spoil to Lithgow LGA, no loss of amenity, heritage preserved, conversion of the existing highway from Katoomba to Harley into a world class tourist drive, creation an alternative emergency access route, no resumption of National Park land, no truck impact. *
TFNSW plan to be ''shovel ready'' to start in Medlow Bath in October 2022. The Blue Mountains City Council submission raises concerns that the proposal is prioritising the department's regional commitment timetable over its legislative obligations under the Environmental Planning and Assessment Act 1979 (EPA) and Environmental Planning and Assessment Regulation 2000.
"This simply doesn't pass the pub test" says Deb Brown. "The State government is in such a hurry to spend money, but they should get it right in the first place. It's a road of national significance''.
CONTACT:
Michael Paag, Secretary, Blackheath Area Community Alliance – M 0423 596 240
Rod Stowe, Chair, Blue Mountains Branch, The National Trust (NSW) – m ??
Stephen Caswell, President, Medlow Bath Action Group – m 0408 541 172
Deb Brown, President, Medlow Bath Residents Association Inc. – m 0420 313 790
Download: Comparison DOT and AIS proposals 19.9.2021
---
Blue Mountains City Council to resume Click & Collect library service
Blue Mountains City Council is now permitted to offer a Click and Collect library service, following changes to the Public Heath Order. The service will recommence from 27 September at Katoomba and Springwood Libraries.
In late June, all libraries across Western Sydney ceased their Click & Collect services in line with the NSW State government COVID-19 restrictions. Now the State Government has approved an exemption for public libraries, these services can return.
Blue Mountains Mayor, Cr Mark Greenhill, said: "I'm delighted to announce that Blue Mountains Libraries can now offer extra valuable services for our customers, in line with the Public Health Order.
"This will assist many members of our community who may be feeling isolated during this time and they can now enjoy the many benefits of borrowing books and the joy reading can bring, in difficult times.
"I would like to thank everyone for their patience as we continue to work with the relevant health authorities in resuming services where and when it is appropriate, while keeping our community safe."
Customers will be able to access the online catalogue to place reserves on items from Monday 20 September. Reserved books, DVDs and other items can be collected from Springwood and Katoomba Libraries from 27 September, between 11am – 4pm, Monday to Friday. For Springwood Library, entry is via the forecourt only. At Katoomba Library, entry is via the lift or stairs.
From 20 September, returns bins at all Blue Mountains Libraries will be available on weekdays, closing 5pm Friday and remaining closed on weekends.
Blue Mountains Libraries also continue to offer the following online resources and encourage people to take advantage of these services during current restrictions:
eBooks and eAudiobooks, via BorrowBox
eMagazines and eAudiobooks, via RBdigital
video streaming, on Beamafilm
Mango Languages
eResources and eLearning games for kids including Britannica Library for Kids, LearningSpace 123 and Story Box Library
Youth and HSC Resources
Reference and research eResources, extensive local history information.
To reserve a book, DVD or other item for Click & Collect, visit the Library website and catalogue at library.bmcc.nsw.gov.au from 20 September. Books can be picked up from Springwood and Katoomba Libraries from 27 September. Customers without internet access can call the Library branches for staff assistance in placing reserves, from Monday 27 September. Call Springwood (4780 5040) or Katoomba (4780 5750) Libraries from 10am to 5pm, Monday to Friday.
---
Regional Tourism Industry calls out the country's piecemeal response to COVID restrictions – pleading with Federal and State Governments to provide effective leadership.
Regional areas across the country are at risk of not only huge economic losses, but Australian Regional Tourism warns recovery for many is no more than a pipe dream.
The industry previously worth $138 billion and attributing to one in 12 jobs nationally, and closer to one in six jobs in some regions, has been hardest hit by the covid downturn. There is no doubt the country faces the largest health crisis in many generations, however the collective State and Territory Governments refusal to successfully collaborate on a coordinated response to restrictions, ongoing border closures and lack of a national strategy to rebuild industry, is crippling the nation.
It's agreed short-time survival measures such as jobkeeper were effective and implemented quickly however, now 18-months on, we still have no clear national long-term strategy to lead us out of this mess according to Australian Regional Tourism Chair, Coralie Bell
'Small business remains at the front line of this ongoing debacle. The opening and closing of state borders and the state-based approach to restrictions is a joke" Mrs Bell said.
"Enough is enough. Cities are empty. Any business that is located more than 3 hours from a major city is empty. If you're on a border town – heaven help you, you are the forgotten people."
Calling out current piecemeal approaches by states and territories, Australian Regional Tourism reiterated the tourism sector support for health considerations.
"This is not about health and safety. Everybody knows health should come first. This is about leadership of a country and an ability for states and territories to put aside egos and work across borders for the greater good of Australian citizens and business, it's an embarrassment." Mrs Bell said.
"In WA, you may find yourself singing "Welcome to the Hotel California", because life seems great and you can pretend covid doesn't exist – but you can never leave! with the Premier continuing to enforce hard closures with no end in sight, pointing fingers at the naughty big sister, NSW.
If you're in NSW, you're going to need vaccination proof to leave your home it seems, as international media start to question if Australia really is a free country. And in Qld – well, you can sit in a stadium and watch the footy! Hurrah"
If we can't even get our own backyards straight, how are we ever to return to a place where international visitors feel confident to travel. We should be ashamed'. Mrs Bell said.
Governments have had ample time to address industry priorities and strengthen the regional business outlook, however we are yet to see any real and meaningful action. Industry is tired of the bickering and hearing the same thing over and over.
Without a clear and coordinated National strategy we have no pathway to rebuild what once was a $138 billion dollar industry, and the backbone of Australia.
About Australian Regional Tourism
Australian Regional Tourism (ART) is the peak national body representing regional tourism practitioners. ART acts as a hub for collaboration, cooperation, ideas generation, knowledge sharing, networking and so much more. On behalf of its members, ART advocates for sustainable regional development and amplifies key messages to government, other industries and industry sectors, researchers, educators and the public.
---
Last chance to have your say about plans for Buttenshaw Park, Springwood
New artist impressions for the proposed play space at Buttenshaw Park, Springwood are now available and the Blue Mountains community is encouraged to make final comments on plans for the play space and park.
Buttenshaw Park is one of our four district parks in the Blue Mountains being upgraded. The planned upgrade at Springwood, scheduled for 2022, is for an inclusive youth play space with adventure activities.
Council also needs final feedback on the draft Buttenshaw Park Plan of Management and Masterplan. These plans need to be endorsed by the Council before the play space can be built. They are due to go to the October 2021 Council Meeting.
Mayor Mark Greenhill said: "District parks are large and high quality parks that cater to the needs of the broader Blue Mountains community. They offer a wider variety of activities and settings and are often the most popular parks and play spaces.
"We want Buttenshaw Park to be a great place for everyone, including young people, who need spaces to feel welcome and engaged in our community. I urge the community to make final comments on the youth play space, that is already funded, as well as the draft Plan of Management and Masterplan for Buttenshaw that will guide any future improvements and how the park will be managed."
The Open Space and Recreation Strategic Plan, endorsed by the Council and community in 2018, sanctioned Buttenshaw Park as a District Park. It also included an action to "upgrade the park focusing on the needs of older children and teenagers in the area". Council then secured funding to build a $1.5 million youth place space at this location.
The design of the new youth space, shaped by extensive community consultation in 2020, looks to maximise the challenging sloping topography of the park to deliver an exciting, high energy space with adventure equipment, like:
double flying fox and group swing
unique, customised youth focused climbing and hang out structure
climbing/bouldering wall, and
multifunctional asphalt pump track that caters for bikes and scooters.
The main park path connection will also be realigned to provide an accessible path through the park to the Springwood Aquatic and Fitness Centre.
"The design respects the key community values for the park and respects the ecological value of Birdwood Gully, the retention of wide open lawns for passive recreation activities and offers facilities for all park users including seating, shelters and water bubblers," Mayor Greenhill said.
On 29 June 2021, following the public exhibition of the draft Buttenshaw Park Plan of Management and Masterplan, Council decided to engage in further community consultation prior to adopting the plans.
"Council is committed to addressing the needs of residents, and young people, and improving quality of life for all," Mayor Greenhill said.
To provide feedback on the final designs for the Buttenshaw Park Youth Play Space, or the draft Masterplan and Plan of Management, please take our short survey at: https://yoursay.bmcc.nsw.gov.au/buttenshaw-park by Tuesday, 28 September 2021. Answers to Frequently Asked Questions are also available, as is a map of the play space.
You can also talk to us on the phone to raise any concerns, in this final round of community consultation. Please call Council on 4723 5000 (Lower Mountains) or 4780 5000 (Upper Mountains) to book a time on Tuesday 21 or Wednesday 22 September, between 10am and 6pm.
This project is funded under the Western Parkland City Liveability Program, which is part of the Western Sydney City Deal (WSCD). The WSCD is a 20 year-agreement between Australian and NSW governments, and the eight local Councils of the Western Parkland City.
Photos: Artist's impressions of the new youth play space at Buttenshaw Park, Springwood.
---
Westfield Penrith's proposed entertainment and amusement centre approved
Plans to construct an entertainment and amusement centre at Westfield Penrith have been approved.
Lodged earlier this year, the development application (DA) seeks to change the rear portion of the existing Target tenancy to a licenced indoor recreational facility and amusement centre.
Reconfiguration of the existing shopfront and facade fronting Jane and Riley streets is also slated, while 18 car spaces will be lost to make way for the development.
Scentre Group, which owns the shopping centre, said it would share more details, including retail updates, "soon".
"Evolving our retail, services and experiences mix to continue to meet the needs and interests of our local communities is important to us," a spokeswoman said on Friday.
"It reflects our customer-focused strategy and our plan to create the places more people chose to come, more often, for longer."
Scentre Group submitted the $9.1 million DA for alterations and additions to the north-east portion of the Plaza in March.
FULL story: https://westernweekender.com.au/2021/09/westfield-penriths-proposed-entertainment-and-amusement-centre-approved
---
12th September 2021
Urgent

appeal to help save Australia's frogs

We're sadly seeing sick and dead frogs across Eastern Australia, many of which are already threatened. You can help by supporting our urgent appeal.

The BMCC advises: In recent months, sick and dead frogs have been turning up across eastern Australia and the cause remains a mystery. The Australian Museum is investigating, but they need help!
Affected frogs have been found in the Blue Mountains and Council encourages residents to report any sightings of healthy, sick or dead frogs to the Museum.
Download and record frog calls with the free FrogID app
Or if you find a sick or dead frog you can email your observation (including photos and location information) to the FrogID team at calls@frogid.net.au
---
12th September 2021
September is Biodiversity Month
Biodiversity Month is all about the importance of protecting, conserving and improving biodiversity here in Australia, and around the world.
Biodiversity encompasses every living thing that exists on our planet and the environment in which they live. As one of only two cities located within a World Heritage Area, our local biodiversity is unique and some of the oldest in the world. Protecting and nurturing that is incredibly important.
Even in lockdown there are some easy ways you can get involved and help protect your local biodiversity:
Create a natural habitat in your backyard. Look at plants that are native to your region and help create a backyard sanctuary for local birds and wildlife.
Get rid of weeds. What seems like a perfectly harmless plant can turn into a noxious weed if it jumps your back fence and heads into bushland. Find out what's considered a weed in the Blue Mountains
Reduce, reuse and recycle. Look at ways to reduce the amount of rubbish that ends up in landfill and waterways. Find out more on what you can recycle in your local area.
Start composting. Organic matter like vegetable peelings, which usually ends up landfill, is great for your garden. If you don't want to do it yourself, you can join the Compost Hub and share your compost with a local Compost Champion.
---
12th September 2021
Council to participate in RSPCA NSW 'Keeping Cats Safe at Home' project
Council has been selected as one of ten Councils to join RSPCA NSW's 'Keeping Cats Safe at Home' project, funded by the NSW Environmental Trust.
The four year project, which will run from 2021-2025, encourages cat owners to keep their cats safely contained at home to enhance feline welfare and reduce the negative impacts cats have on wildlife.
The project will be delivered by RSPCA NSW with support from Council, and will provide up to $90,000 in incentives for cat owners and may include free or subsidised desexing, cat enclosures and behaviour enrichment advice.
Consultation with stakeholders is currently underway and we're encouraging Blue Mountains residents to submit your views on cat management via an online survey by 31 October.
---
12th September 2021
Apply for a 2022 Cadetship, Apprenticeship or Traineeship at Blue Mountains City Council to kick start your career
The Blue Mountains Council Cadets, Apprentices and Traineeship (CATs) Program will commence in early 2022. Take this opportunity to start a career and earn while you learn!
Cadetships, apprenticeships and traineeships are available in the following areas in 2022:
Cadet Development Engineer
Cadet Environmental Health & Building Surveyor
Cadet Environmental – Healthy Waterways
Apprentice Civil Construction
Apprentice Fabricator
Apprentice Sign Writer
Aboriginal and Torres Strait Islander (ATSI) identified Trainee Business Administration.
Mayor, Councillor Mark Greenhill, said: "Since 2015 Blue Mountains City Council has offered a range of opportunities through our CATs Program. The CATs Program provides the opportunity to learn new skills, gain a qualification and be mentored by long-standing Council employees, who serve the local community."
The positions in this program provide a range of benefits including the opportunity to gain a nationally recognised qualification, earn a weekly salary or wage, gain industry experience, and have the ability to access and learn about other areas of the business – all within the Blue Mountains World Heritage Area.
The benefit to Council from providing these opportunities includes increasing the skills base within teams, increasing mentoring opportunities for supervisors and colleagues and providing opportunities to the local community, including young people and those wishing to re-skill in a new area.
Holly Nettle is Council's current Environmental Science Cadet and she encourages others to take the same step she has.
"For anyone considering applying for a Cadetship, Apprenticeship or Traineeship with BMCC, I encourage you to take the leap, you won't regret it!" Holly said. "Council has been more supportive than I could have imagined and has given me the opportunity to make real world change, whilst balancing my studies. My cadetship has laid the foundations of my career and I could not be more grateful for this opportunity."
Environmental Sustainability Cadet, Michelle Bird, echoes Holly's sentiments: "This Cadetship has been an invaluable experience, where I am able to put what I am learning at university into action. There is so much diversity in the role and I have the opportunity to dabble in many different types of projects to find what I really enjoying working on. There are so many projects you can get involved in, that benefit the community you live in, which is a really great feeling."
The CATS Program's entry-level roles are open to everyone but also reserve placement for those in our community who may not have the same opportunities or are under-represented in the workplace. One of these positions currently available is an ATSI identified Trainee Business Administration.
Ed Hunter, a representative of Council's Indigenous Staff Reference Group, said: "This is about promoting equal opportunity in building a career. It is a great experience to work for Council and serve the community you live in."
Gundungurra elder, Aunty Merle also has some encouraging words for local indigenous people. "Put your name down, it's a good stepping stone," she said.
Earlier in the year, Council endorsed the Statement of Recognition and Commitment; a historic statement that acknowledges the wrongs of the past and pro-actively addresses the current and ongoing disadvantage First Nation people continue to suffer.
Please visit https://www.bmcc.nsw.gov.au/trainees or contact Louise Daley on 4780 5000 (upper mountains) or 4723 5000 (lower mountains) for more information including position descriptions and information on how to apply. Applications should be received by 10 October, 2021.
Photo: Blue Mountains City Council Cadet Holly Nettle.
---
12th September 2021
Mayor's Wellbeing Register to help protect residents
To ensure the safety of our most vulnerable community members, Council has launched the Mayor's Wellbeing Register.
The Mayor's Wellbeing Register allows members of the community to register vulnerable, or at risk residents of the Blue Mountains Local Government Area, with Council. You can register for yourself, or on behalf of someone you are concerned about. We will then contact those residents to assist them in accessing the support services they need in this challenging time, including welfare checks or emergency food boxes.
Find out more and how to register for the program online
Supporting our community during COVID-19.
---
THE CROOKED FIDDLE BAND
LIVE IN CONCERT
Baroque Room, Carrington Hotel Driveway entrance
SAT 16th OCT 2021
SHOW PLANNED WITH STANDING / DANCING AVAILABLE!
*Tickets selling fast!
ARIA nominees THE CROOKED FIDDLE BAND are a mesmerising and fiery acoustic 4-piece that deliver high-energy Chainsaw Future-Folk. Post-Apocalyptic World Music. Celtic Energy. Swamp-Stomping Hoe down. Dance-Inciting Mayhem. Hardcore Gypsy Passion!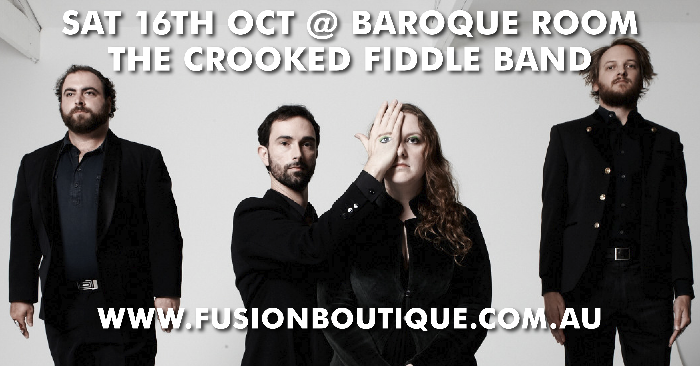 The Crooked Fiddle Band formed in 2006 through their mutual love of the energy and intensity of various traditional world music. Whilst writing and arranging, they discovered that this energy was shared by the other music they love: there seems to be a common thread between the frenetic accompaniment of gypsy, klezmer and punk rock; between the twisting rhythms of math-metal and Balkan folk; between the clear tonalities of Scandinavian folk, Celtic folk, and cinematic post rock.
All these influences went into the mix, but what came out was The Crooked Fiddle Band. The sound they love is dark and often driving, but also writhing and ecstatic. They have jumped around with whirling crowds at festivals, bars and dirty warehouse parties throughout Europe and Australia and also played their more cinematic sounds in the Opera Theatre of the Sydney Opera House.
This music they have sometimes called 'chainsaw folk' – even though they are pro-conservation – but others have called it "14th century Romanian metal", "thrash folk", "whirlwind gypsy" and even "what Sepultura would sound like if they provided the soundtrack to a hyperactive version of O Brother Where Art Thou." So whilst the search continues for a name for their genre, they are mainly concerned with making music with melody, energy and intensity.
Driven by the beautiful and furious fiddling of Jess Randall (also on Lennart Lovdin Nyckelharpa), and underpinned by a rhythm section featuring Gordon Wallace (Gilet guitar, a Wheeler Custom Lutherie guizouki and a Fylde mandolin and cittern), Mark Stevens (double bass, Appalachian dulcimer, charango) and Joe Gould (drum kit, hand percussion, garbage bin, vocals) the Crooked Fiddle Band sound blasts, rocks and grooves to the point of dementia, compelling listeners into a joyous frenzy.
Their latest offering 'Another Subtle Atom Bomb' takes the band's blistering violin-led live show and creates soundtracks to their feelings around climate change. From angsty and furious folk tunes to fantastical imagined worlds full of ecstatic hope, this is The Crooked Fiddle Band's most personal album yet.
Their music has been described by Brian Eno as "…completely surprising: the music is original and quixotic. I can't say I've ever heard anything else like it!"
"This band really is a national treasure and testament to the infinite talent that keeps manifesting in our backyard… this group have re-invented folk music as it is known… The Crooked Fiddle Band charmed the audience into submission." – Vanessa Lahey, Australian Stage
"When The Crooked Fiddle Band took to the stage, it was as though someone had put 10,000 volts through the dance floor." – BEAT magazine
"AN IRRESISTIBLE FORCE OF NATURE." – Tony Hillier, The Australian
www.crookedfiddleband.com
www.facebook.com/crookedfiddleband
This show has been planned as a standing / dancing show.
Room configuration will be general admission standing / dancing on the dance floor and allocated seating for table bookings in Section B Bar and C Lounge. All tickets require group bookings.
Table bookings for Section B will be allocated from the front of the room to the back, based on the order that they are received.
Guests who booked tables will be emailed their seat allocations prior to the event date.
Guests who book group tables will be able to move to the dance floor however general admission standing / dancing tickets will not have seats available.
*Please note that the event will proceed according to the public health order requirements current at the time. If seated alcohol consumption or no dancing is brought in for the event date then all Section A standing / dancing tickets will be converted to seated theatre style rows instead.
Tickets $35 pre +bf / $40 door per person (min booking of 2)
Ticket Link: https://events.humanitix.com/fbcrookedfiddle
*Door sales only available if not sold out prior.
Discount show pre-bookings will close 10am on the day of the event.
FB event link: www.facebook.com/events/537461097422740
VENUE: BAROQUE ROOM, 15 Katoomba St, Katoomba, NSW 2780 Blue Mountains
*** NEW ENTRY VIA THE CARRINGTON HOTEL DRIVEWAY KATOOMBA ST ***
Come and enjoy the new refurbishments of this terrific room!
*This event is an over 18 years only. No minors will be granted entry to the event.
These concerts will be COVID safe events and will adhere to all the regulations required including guests checking in on arrival and remaining seated during the event. The health of our staff, performers and guests are of the highest priority. Thank you for your understanding while we navigate these current times.
Book with confidence knowing that, while tickets are non-refundable, if a show needs to be cancelled for any reason then all tickets will of course be refunded. If a show needs to be rescheduled then tickets will be valid for the new dates. In the instance of guest illness tickets can be transferred on request prior to 3pm on the date of the event.
---
12th September 2021
Dine & Discover NSW vouchers extended again until 30th June 2020!
The NSW Government launched Dine & Discover NSW to encourage the community to get out and about, supporting dining, arts and tourism businesses and to stimulate spending in the economy.
Every NSW resident aged 18 and over will be eligible for 4 $25 vouchers worth $100 in total. The vouchers can be used at participating NSW businesses who are registered as COVID safe.
The Dine & Discover NSW vouchers will be divided into two categories:
2 x $25 vouchers to be used for eating in at restaurants, cafes, bars, pubs and clubs from Monday to Thursday, excluding public holidays.
2 x $25 vouchers to be used for entertainment and recreation, including cultural institutions, live music, and arts venues.
To participate in Dine & Discover NSW, you must have a MyServiceNSW account. You can download the Service NSW app now and register for a MyServiceNSW account ahead of the vouchers becoming available.
You can only redeem one voucher per day at a business. However, you can combine your voucher with another person's voucher towards the same bill.
Once you have received your Discover vouchers and would like to redeem them for any of the upcoming Fusion Boutique concerts please contact us on info@fusionboutique.com.au to discuss redemption.

One voucher can automatically be applied during the payment process through Humanitix for our events sold through that platform but if you would like to redeem more vouchers for the one order please contact to discuss how we can help you with this. Once redeemed directly we can set you up with a specialised $25 off discount promo code for how many are combined so that you can purchase your pre-sale discount tickets and complete payment on the balance remaining.
Photo of our Kim Churchill concert at Baroque Room by Brushtail Photography back in March 2020.
---
12th September 2021
FUSION BOUTIQUE Presents THE LAUNCH OF
'Palais Performances' Concerts for Listening Audiences with
DAVE GRANEY & CLARE MOORE
Live in Concert at the Palais Royale Grand Ballroom
*NEW RESCHEDULED DATE – SAT 6th NOVEMBER 2021
ONLY LIMITED TICKETS REMAINING!
We are launching a new "listening space"! The launch was originally planned for July but with the lockdown extensions continuing we will move this to when we can run in person events again.


Both new audiences and those that knew and loved our past long standing full venue set up series, such as 'Metro Social', 'Live At the Attic' and the Paragon sessions, will be delighted with this new marvellous listening experience created by Fusion Boutique in the gorgeous Palais Royal Ballroom.
This has been a project that has been on the back burner for many years but the time is finally right to move forward and offer our wonderful audiences a new special intimate format to share and enjoy some more awesome original artists. We hope that you can join us for the launch and help make this the first of many more fabulous shows to come.
A marvellous listening experience created by Fusion Boutique in the gorgeous Palais Royal Ballroom.
We are delighted to have DAVE GRANEY & CLARE MOORE return to the Blue Mountains for an intimate evening concert at this special venue.
Dave Graney and Clare Moore – duo with guitars/vibes/keys/melodica.
However they choose to play, they bring their story and their songbook which stretches to over 40 albums. During the pandemic lockdown – which they experienced in Melbourne – they started doing online shows every week, sometimes twice a week and revisited songs from all these albums as well as workshopping new material. They kept their performing, playing and writing skills sharp.
They have also been in the studio recording a new album, provisionally titled THUS WAGS THE WORLD, as well as issuing three live albums from the vaults in the last twelve months. (The most recent being LYVE AT BYRDS) Further reissue of material will be happening in 2021.
People have been heard to have heard people say. (Sources close to the couple). "WHO ELSE COULD TAKE YOU THERE?"
Dave Graney humbly adds, "It's not like those other crumby bands. They are mostly wrong, we are totally right. Word. Comrade. We go East, West, North, South and Straight Up. Get some".
Dave Graney was awarded 'Best Male Vocalist' at the ARIA Music Awards of 1996 for his work on The Soft 'n' Sexy Sound, while "Feelin' Kinda Sporty" won 'Best Video' in 1997 and he has received seven other ARIA Award nominations.
Doors Open to the Grand Ballroom 7pm | Performance Start 8pm
Room configuration will be seated in theatre style rows and seating will be general admission.
Tickets must be purchased as part of a group booking, with a minimum of 2 tickets per booking.
Tickets discount pre-sale $40 + booking fees / person
Booking of 2 – $80 ($40 per ticket) + bf
Booking of 3 – $120 ($40 per ticket) + bf
Booking of 4 – $160 ($40 per ticket) + bf
etc
Ticket LINK: https://events.humanitix.com/fbdaveclare
Only limited tickets. We advise booking quickly!
Or $45 each cash per ticket on the Grand Ballroom Door (after doors open and unless sold out prior).
Discount show pre-bookings will close 10am on the day of the event.
Pre-order cheese plates and bottles of wine will close 9am on the day of the event.
Guests can enjoy a range of beverages (beer, wine, cider, spirits, soft drinks and hot drinks) from the Palais Royal bar on the night, as well some light meal options.
Guest can also pre-order cheese plates to be available for pick up on the evening too:
Cheese plates $15 each, to pre-order visit: https://events.humanitix.com/palaischeeseplate
Guests can also pre-purchase a bottle of wine for collection via the same link too.
FB event link: www.facebook.com/events/954906421943543
VENUE: PALAIS ROYALE GRAND BALLROOM 230 Katoomba St, Katoomba, NSW 2780 Blue Mountains.
*The Palais Royale is an all ages venue however minors must be accompanied by a parent or legal guardian and must remain supervised and do require a standard ticket for entry. Please also keep in mind that the performance space is a listening room.
All events will strictly follow COVID safe procedures, as outlined by NSW Health.
Book with confidence knowing that, while tickets are non-refundable, if a show needs to be cancelled for any reason then all tickets will of course be refunded. If a show needs to be rescheduled then tickets will be valid for the new dates. In the instance of guest illness tickets can be transferred on request prior to 3pm on the date of the event.
---
12th September 2021
Just Not Australian
Blue Mountains Cultural Centre
Extended until 24 October 2021
Please note that current Covid-19 restrictions are impacting on our ability to show this exhibition.
We are hosting a number of online activities & content for audiences to engage with Just not Australian online.
Just Not Australian presents work by Australian artists at the forefront of national debate and practice. This exhibition brings together 20 artists across generations and diverse cultural backgrounds to deal broadly with the origins and implications of contemporary Australian nationhood. Showcasing the common sensibilities of satire, larrikinism and resistance so as to present a broad exploration of race, place and belonging, Just Not Australian interrogates what it means to be Australian at this challenging point in time.
Just Not Australian engages with the moral and ethical undertones of the loaded rejoinder 'un- Australian' – a pejorative now embedded in our national vocabulary that continues to be used to further political agendas and to spread nationalistic ideals of what it means to be Australian. Far from a simple comparison, a consideration of what's not Australian ultimately leads to questions of what is, and the artists in Just Not Australian consider this in detail.
This exhibition begins its national tour from 2020 which marks the 250th anniversary of Captain Cook's first voyage to Australia, a timely moment to interrogate Australia's colonial history and the complexities of presenting and representing national identity.
Just Not Australian was curated by Artspace and developed in partnership with Sydney Festival and Museums & Galleries of NSW. The exhibition is being toured nationally by M&G NSW touring exhibition
http://bluemountainsculturalcentre.com.au/exhibition/just-not-australian/
---
T. WILDS '10 Songs' ALBUM LAUNCH
LIVE IN CONCERT
Upstairs at the Bootlegger Bar
SAT 9th OCT 2021
VERY LIMITED TICKETS ARE AVAILABLE!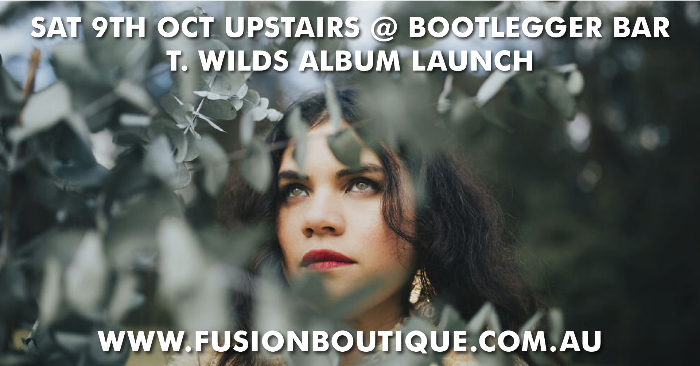 T Wilds celebrates the release of her new album '10 Songs'. Recorded in the Blue Mountains with her band partner Matt Toohey, '10 Songs' sees Tania Bowers mark a spectacular return to songwriting and performance, stripping back the electronic production flourishes of her early material as Via Tania and crafting, authentic, left of centre folk music.
The '10 Songs' which feature on the album revel in delicate, minimal arrangements with a dark, reflective edge. '10 Songs' includes the singles 'I Swim' and 'Curious Moon'.
Originally growing up in the Melbourne and Sydney (indie) music scene with her band Spdfgh, Tania relocated to Chicago for quite some time where she played her music with members of Tortoise, Wilco, and Giant Sand.
The impact of T. Wilds' voice is immediate and definitive. Distinctive, delicate yet powerful, and instantly captivating. Her voice provides the perfect vehicle for her ever-expanding catalogue of songs that are wise and curious, daydreamy and evocative. She is influenced by the beauty of her surroundings and the natural world. Landing somewhere between the sophisticated soul of Sade, the wistful yearning of Nico, and the country-tinged soul of Gillian Welch, her music continues to evolve into its own genre of delicate indie-folk.
Come and join us for a special intimate launch of her new album upstairs at Bootlegger Bar. Tania will be performing in trio format with Matt Toohey (Kid Cornered) on guitar and Anna West on cello.
This is a limited capacity space and we advise booking quickly to avoid disappointment!
www.instagram.com/tania_wilds_music
www.facebook.com/viatania
www.taniawilds.com
Room configuration will be seated at tables cabaret style.
Tickets must be purchased as part of a group booking, with a minimum of 2 tickets per booking. Tables of 2 can be joined if booked under the same name or requested prior. Tables of 4 are set.
Tickets discount pre-sale $20 + booking fees / person
Booking of 2 – $40 ($20 per ticket) + bf
Booking of 4 – $80 ($20 per ticket) + bf
etc
Ticket Link: https://events.humanitix.com/fbtwilds
Or $25 each cash per ticket upstairs (after doors open and unless sold out prior).
*Door sales only available if not sold out prior.
Discount show pre-bookings will close 10am on the day of the event.
FB event link: www.facebook.com/events/335973211513977
VENUE: BOOTLEGGER BAR 92 Bathurst Rd, Katoomba NSW 2780, Blue Mountains.
Bootlegger Bar is an all ages venue however minors must be accompanied by a parent or legal guardian and must remain supervised and do require a standard ticket for entry. Please also keep in mind that the performance space is a listening room.
Please also note that the Bootlegger Bar is 2 levels and the performance will take place on the top floor. There is no wheelchair access to this level.
Kitchen closes at 10pm. All dinner bookings must be made through the Bootlegger website: www.bootleggerbar.com.au
*A note also needs to be made at the time of booking that you are there for the concert.
Book with confidence knowing that, while tickets are non-refundable, if a show needs to be cancelled for any reason then all tickets will of course be refunded. If a show needs to be rescheduled then tickets will be valid for the new dates. In the instance of guest illness tickets can be transferred on request prior to 3pm on the date of the event.
---