Ask Roz Blue Mountains lets you find great things to see and do in the greater Blue Mountains, Lithgow & Oberon regions of NSW, Australia and covers everything from events, attractions, activities, walks, lookouts, entertainment, places to eat and stay as well as things to do. It is the most comprehensive resource available for mobile users in the region.
Ask Roz is the most powerful and accurate events – attractions – activities website and mobile apps available and is provided as a FREE service to both promoters and users alike. Users are encouraged to publish details of any event that they feel other locals or visitors to their region would be interested in.
All Ask Roz mobile apps are true NATIVE Apple and Android applications.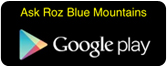 Unlike some websites and mobile apps, Ask Roz is not restrictive in what it lists because we are not membership or commercially restrictive.
Download Ask Roz Blue Mountains today so you and your family can start enjoying some of the amazing events the greater Blue Mountains region has to offer.
Ask Roz have achieved a number milestones.
Our awards have included:
2019 NSW Regional Tourism – Finalist Specialised Tourism
2018 NSW Tourism Award – Winner Specialised Tourism
2017 NSW Tourism Award – Finalist – Specialised Tourism
2017 Blue Mountains Business Awards ~ Winner – Excellence in Innovation
2017 Blue Mountains Business Awards ~ Hall of Fame
2017 NSW Business Awards ~ Finalist – Excellence in Innovation
2016 Australian Tourism Award – Finalist – Specialised Tourism
2016 NSW Tourism Award – Winner Specialised Tourism
2016 Blue Mountains Business Awards ~ Winner – Excellence in Innovation
2015 NSW Business Awards ~ Finalist – Excellence in Innovation
2015 Blue Mountains Business Awards ~ Winner – Excellence in Innovation
2014 BMLOT Tourism Awards ~ Winner

Specialised Tourism

2014 NSW State – Finalist ~ Specialised Tourism
2014 Blue Mountains Business Awards ~ Highly Commended New business
Total: 539 Today: 2