Grow your business by offering Special Offers
Grow your business with your own Digital Special Offers that reward existing customers & attract new ones.
About your Ask Roz Special Offers-
Priced from as little as $1 per day
Buy 1 Special Offer and get a 2nd for free*
Quick setup.

Attract new customers.

On the go phone booking option.

Audio & Video content option.

Reach customers nearby, while there are out & about.
* Limited Offer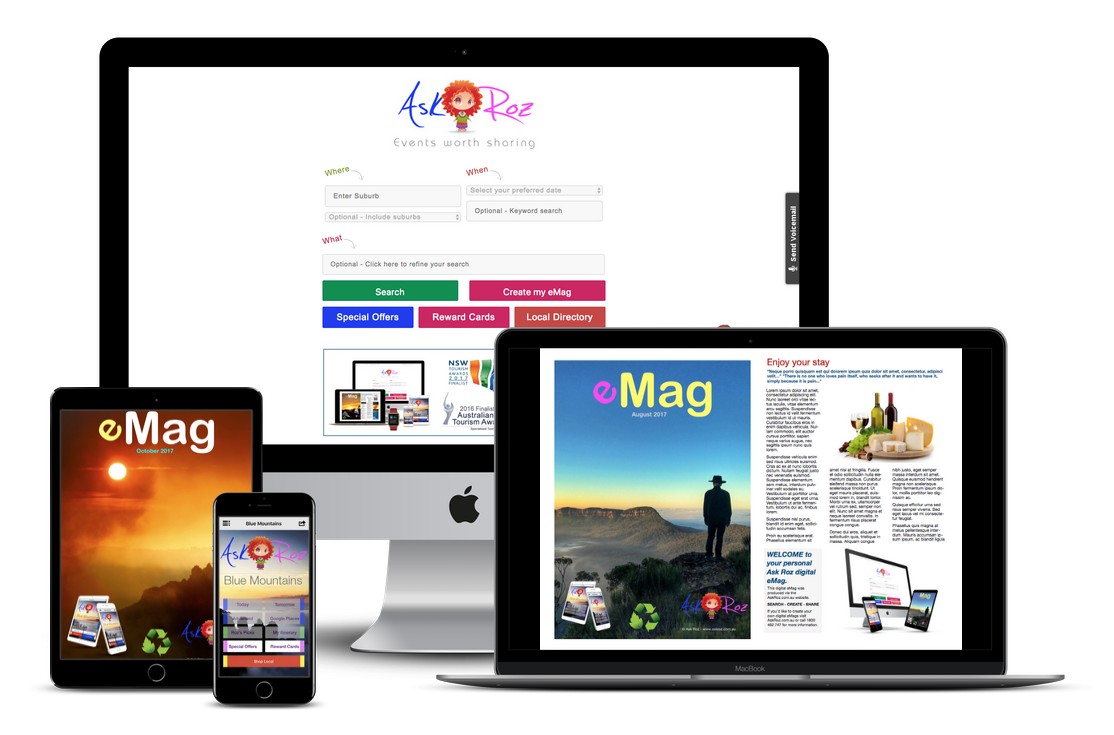 Special Offer Features.
When you create your Special Offer you have a number of options and benefits.

Location-based: The Ask Roz app uses Geo-Location, so the app knows where the user is & can show them what Special Offers or Reward Cards are around them.

Audio guide: Every business owner has the opportunity to record a personal message for all app users, it's your way to talk to potential clients and to explain to them how amazing your Special Offer is.

Video: Every business owner has the opportunity to add a YouTube video to their Special Offer so the user gets the feel of the Special Offer & business.

Buy 1 Special Offer and get another FREE*: After you've set up your 2nd (Free) Campaign, Ask Roz will activate it free of charge so you can create your 2nd Rewards Card.

Promotion: Ask Roz promotes all Special Offers and paid Rewards Cards on an on-going basis via Social Media, Newsletters and Mobile Application "Push Notifications".
Featured listing: Every business with either a Special Offer or a paid Rewards Card is also listed as a "Featured" listing.
* Limited Offer
Getting started
Once your account is set up, getting up your Special Offer is easy. Simply complete the form on this link and we'll set your Special Ofer up.
Click here >>
Ask Roz' goal is to empower people to find great things to see and do.

In addition to the Ask Roz website, there are also Ask Roz mobile apps and our digital eMags.
Ask Roz have achieved a number milestones. Our awards have included:
2017 Blue Mountains Business Awards ~ Winner ~ Excellence in Innovation
2017 Blue Mountains Business Awards ~ Hall of Fame
2017 NSW Tourism Awards ~ Finalist ~ Specialised Tourism
2017 NSW Business Awards ~ Finalist ~ Excellence in Innovation

2016 Blue Mountains Business Awards ~ Winner ~ Excellence in Innovation
2016 NSW Tourism Awards ~ Winner for Specialised Tourism
2016 Australian Tourism Awards ~ Finalist Specialised Tourism
2015 Blue Mountains Business Awards ~ Winner for Innovation
2015 NSW Business Awards ~ Finalist for Innovation
2014 BMLOT Tourism Awards ~ Winner for Specialised Tourism
2014 NSW State Tourism Awards ~ Finalist for Specialised Tourism
2014 Blue Mountains Business Awards ~ Highly Commended New business