USE your free Ask Roz Blue Mountains app, to find great things to see and do in the greater Blue Mountains region. Below are some links you may find useful on a daily basis. See what's on, check the weather, read all local newspapers and listen to RMB 96.1. 
What's On
Rainy Day – Wheelchair Friendly
Exhibitions – Markets
Swimming Spots – Hot Days
CLICK HERE to promote your event on Ask Roz
Free Apps
Apple: Ask Roz Blue Mountains
Android: Ask Roz Blue Mountains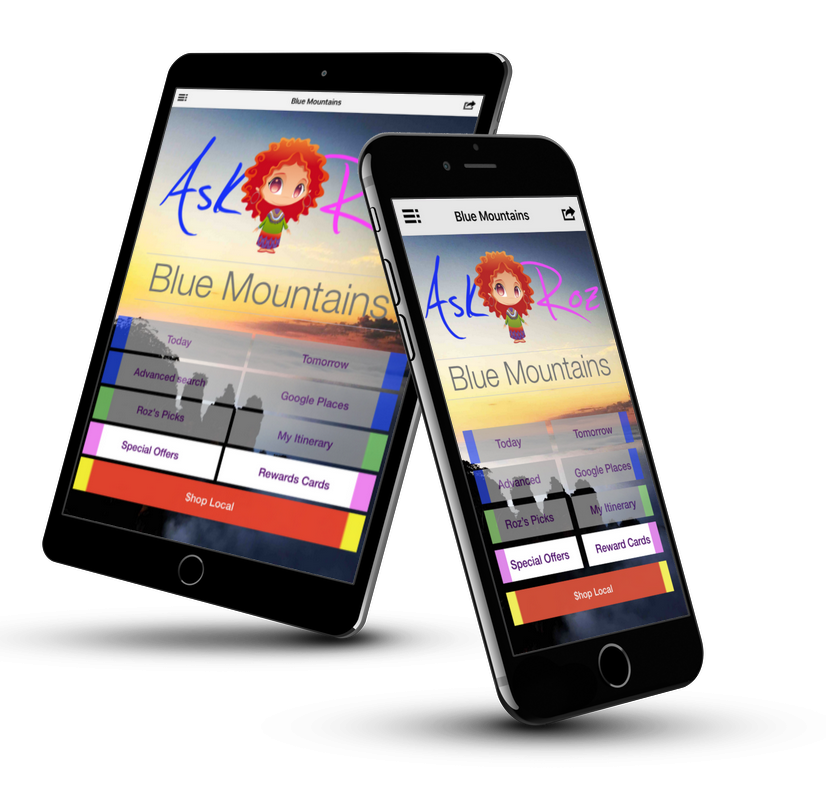 Alerts
NPWS – Alerts
BMCC – Track Closures
Shop Local
FIND a great local business
LIST your business for FREE
Weather – 7 Day forecast
NB: Use the drop-down to select your preferred location.
http://www.willyweather.com.au/nsw/greater-western-sydney/penrith.html
Weather Radar  Lightning strike map
Sunrise-Sunset times – Daylight Saving
The Moon cycle – Moon Rise & Set
Blue Mountains snow stats – Best viewed on a computer
LISTEN to local radio

CLICK HERE to listen to RMB 89.1fm
CLICK HERE to listen to the Blue Mountains Regional Business Chamber's Business Show
READ local newspapers
NB: You can also read papers on your Ask Roz Blue Mountains app.
SEARCH, CREATE and SHARE your own eMag
eMag is an amazing digital magazine that your SEARCH, CREATE and SHARE. The content is yours. eMag is available in 4 variations.
eMag BASIC

eMaG PERSONAL

eMag BUSINESS

eMag

Pro
Watch the video below to see how to create eMag PERSONAL.
PROMOTE your event on Ask Roz
Ask Roz is happy to consider promoting any event happening in the greater Blue Mountains region. Click here for more information.
FOLLOW Ask Roz Blue Mountains on SOCIAL MEDIA
YouTube – Instagram – Twitter – Facebook – Shop Local
Photography
Street Photographers rights explained
Have you ever wanted to create beautiful night photos but it was completely dark when you found the right spot and subject? Well, the bluehoursite.com website will help you by calculating the best time frame for taking stunning blue hour pictures. If you don't know what is "blue hour" then you're in the right place. It refers to the time after the sun goes below the horizon and the sky goes into deep blue for a while.
Avoiding Light Pollution
Light pollution is a side effect of industrial civilisation. Its sources include building exterior and interior lighting, advertising, commercial properties, offices, factories, streetlights, and illuminated sporting venues.
Light Pollution in the Blue Mountains